17 May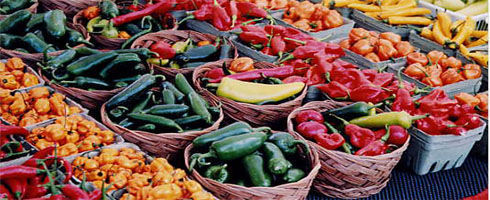 Farmers markets over the past 20 or so years, have sprouted up all around the United States, largely as a response to the awakened interest in fresh food.  But while this might seem like a new phenomenon, farmers' markets actually have a long history in this country.
The farmers markets movement started when the nation was shifting its resources from agriculture to industry in the latter half of the nineteenth century, and the population shifted accordingly from rural areas to urban centers.  At the same time, entire patterns of farming were changing.  Fruits and vegetables were now being grown for year-round availability, visual appeal, and their ability to withstand the rigors of long-distance shipping – but often at the price of freshness and flavor.  Which is why a ripe, juicy peach or tomato was becoming a fond memory.
The new city dwellers still wanted farm-fresh produce, though, and farmers' began to pop up around the nation, frequently sponsored by cities as public markets.  Continuing a European tradition, farmers came to town in horse-drawn wagons to sell their goods in open lots along major city thoroughfares (many of which eventually became known as Market Street).
Early examples include Philadelphia's Reading Terminal (whose site can be traced back to the city's origins), the Indianapolis City Market (for which space was included in the town plans of 1821), the French Market in New Orleans, Savannah's City Market, Boston's Haymarket, Cleveland's West Side Market, and the Pike Place Market in Seattle, which is listed on the National Register of Historic Places.
Today, as farmers markets are flourishing more than ever, they range from indoor, year-round installations to weekly outdoor sites where farmers drive into cities and towns and sell directly from their trucks.  Some are publicly funded and administrated: California certifies farmers markets statewide, and insists that vendors sell only produce they have grown themselves.
Others are run by churches, by Chambers of Commerce and urban development groups, or by individuals.  In many states, such as Minnesota and Iowa, Department of Agriculture Cooperative Extension Services direct market operations.