16 Apr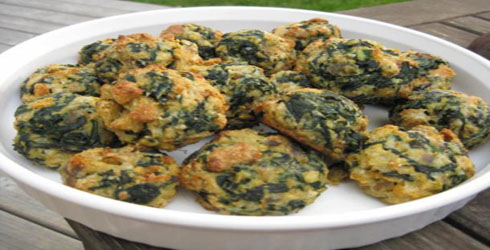 Spinach Balls come out of a cookbook I picked up while living in Virginia.  They are ment to be made and served as appetizers.  However, when I made these up, I was a bit impatient.  I didn't feel like rolling about 100 small spinach balls, so instead, I made them meatball size.  This saved me a ton of time, and also made for the perfect meatball substitute.  Not only are they totally yummy to eat by themselves, but they are even better when mixed with a nice pasta sauce and placed on top of your favorite pasta.  If you want to sneak spinach into your families diet, this is a great way to it.
 Now, if you do want to make them as an appetizer, just make smaller spinach balls and cook them the same way.  You can even freeze them (uncooked), and pull them out when needed, cooking as originally directed.  Do not thaw prior to cooking.
Recipe: Spinach Balls
Summary: Spinach Balls are perfect as an appetizer, or my favorite, as veggie meatballs
Ingredients
2 packages (10 ounces each) frozen chopped spinach
6 large eggs, slightly beaten
1 stick butter, softened
2 cups herb-seasoned stuffing
1 teaspoon garlic salt
½ cup freshly grated Parmesan cheese
1 small onion, grated
1-2 tablespoon olive oil
8 ounces feta cheese, crumbled
Instructions
Preheat oven to 350°F.
Thaw spinach and drain, pressing to remove all excess liquid. Combine spinach and remaining ingredients in a large mixing bowl.
Roll mixture by tablespoonfuls into 1-inch balls (or larger for a meatball size). Place balls on a lightly greased baking pan and bake 20 minutes or until golden.
Quick notes
Unbaked spinach balls may be stored in the freezer. If spinach balls are frozen do not thaw before baking Makes 100 small balls or about 30 larger meatball sized spinach balls
Preparation time: 10 minute(s)
Cooking time: 20 minute(s)
Diet type: Vegetarian
Number of servings (yield): 6
Culinary tradition: USA (General)
Rating 5 stars:  ★★★★★ 2 review(s)
Copyright © The Hungry Wife.