16 Sep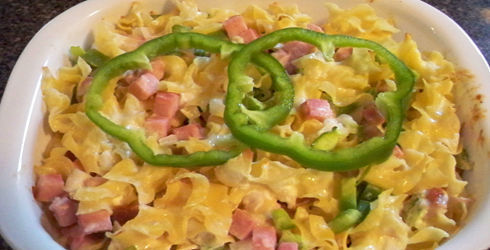 I don't think I can ever have too many casserole recipes.  The great thing about casseroles are that they are really easy to make, and often can be assembled ahead of time.  There is a casserole recipe for everyone, whether your a vegetarian, meat lover, or on a restricted diet.  Ham and Cheese Noodle Casserole is The Hungry Wife go to recipe for a delicious, quick meal.  It is also great to serve for when guests are over, serve it with a nice side salad and crusty bread, so good.

Ham and Cheese Noodle Casserole is super quick to make, the longest part is cooking the pasta.  Since you are using cooked ham, cooking time is cut to a mear 25 minutes, just enough to melt the cheese and heat through.  Excellent for a busy weeknight meal, Ham and Cheese Noodle Casserole will satisfy even the pickiest eaters.  I love how the green pepper adds a nice refreshing crunch, but can be left out if you so choose.
I like to use No-Yolk noodles, as it is best to be made with a wide noodle, but feel free to use your favorite.  Try mixing up the veggies that you use in this recipe.  Broccoli would make a wonderful substitute for the green pepper.  This is definitely a casserole that needs to be on your menu.
Ham and Cheese Noodle Casserole Recipe
1 (8 ounce) package wide noodles
2 ½ cups or ¾ pound cooked ham, diced
2  cups or 8 ounces shredded Swiss cheese
1/3 cup green pepper, chopped
2  tablespoons onion, chopped
1  teaspoon salt
1  cup sour cream
Cook noodles according to package direction; drain.  Toss together noodles, ham, cheese, green pepper, onions and salt in a large bowl.  Blend in sour cream.  Turn into 2-quart casserole.  Bake at 375° for 25-30 minutes or until cheese melts and casserole is heated through.  Top with green pepper rings.  Serves 6.