17 Jan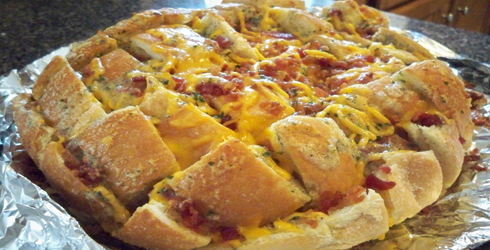 Cheddar Bacon Ranch Pulls are an amazingly delicious snack, perfect for parties.  It is a bit indulgent, you wouldn't want to sit down and eat the entire loaf yourself, but it is so good it wont last long at your get togethers.

With the Super Bowl right around the corner, I couldn't think of a better snack to put out on the table.  Kind of like a blooming onion, people pull chunks of bread off and pop them right in their mouth.  The cheesy bacon ranch goodness is sure to be a number one favorite at your football party.  You can mix it up by using chopped broccoli florets instead of the bacon bits.
Recipe: Cheddar Bacon Ranch Pulls
Summary: Cheddar Bacon Ranch Pull is a delicious indulgence, a perfect snack for parties.
Ingredients
1 unsliced loaf (round is preferable) of sourdough or other favorite bread
8-12 ounces cheddar cheese, shredded
3 ounces bacon bits
½ cup butter, melted
1 tablespoon Ranch dressing mix
Instructions
Preheat oven to 350°.
Using a sharp bread knife, cut the bread going both directions to make a bunch of squares, but Do Not cut through the bottom crust. Place bread on foil (enough to wrap the bread) on a cookie sheet. Place the shredded cheese in between the cuts. Sprinkle the bacon bits on bread, making sure to get in between the cuts.
Mix together butter and Ranch dressing mix. Pour over bread. Wrap the entire loaf with foil. Bake, on cookie sheet, for 15 minutes. Unwrap and bake for an additional 10 minutes, or until cheese is melted.
Variations
Instead of using bacon bits, try using chopped broccoli florets. You can also mix up what type of cheese you use to make your own version of this party snack.
Preparation time: 5 minute(s)
Cooking time: 25 minute(s)
Number of servings (yield): 6
Culinary tradition: USA (General)
Rating 5 stars:  ★★★★★2 review(s)
Copyright © The Hungry Wife.