23 Nov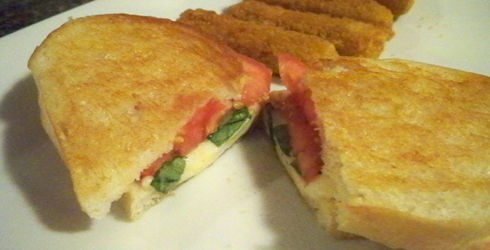 Italian Grilled Cheese and Tomato is taking the classic, quick comfort food and giving it a grownup taste.  There is nothing I like better, when it's chilly outside and you didn't have time to make a stew or roast, to eat a simple meal of grilled cheese and tomato soup.  This is also the ultimate meal if you have a cold or are feeling under the weather during the winter season.

I love the light flavor of garlic in this sandwich.  You can even make this dish  easier to prepare if you can find garlic flavored/infused oil in your grocery store.  Most places carry this, you just might have to hunt through the cooking oil asile to find it.  This way you can skip the warming oil and garlic clove step, and simply brush on the garlic flavored oil.  Smoked mozzarella is also an amazing element to Italian Grilled Cheese and Tomato sandwich.  It is usually sold in the speciality cheese section, in a ball form.  I love the way it smells, and the taste is even better.  Italian Grilled Cheese and Tomato is a simple dish that everyone will love, serve it with your favorite soup or stick with the classic combo of grilled cheese and tomato soup.  Take your grilled cheese experience to a whole new level.
Italian Grilled Cheese and Tomato Recipe
½ cup extra-virgin olive oil
1 large clove garlic, cracked away from skin
8 slices crusty Italian bread
1 pound smoked fresh mozzarella cheese, sliced
2 ripe tomatoes, thinly sliced
8 basil leaves, torn
Heat a grill pan or a griddle over medium low to medium heat.  Heat oil and garlic in a small pot over low heat, for a couple minutes.  With a pastry brush, brush 4 slices of the bread with garlic oil on one side.  Place garlic oil side down on griddle.  Top with sliced cheese, tomato, and basil.  Place another slice of bread on top of each sandwich.  Brush top piece of bread with garlic oil.  Press sandwiches with heavy skillet or a brick covered with foil.  Toast sandwiches on both sides to melt cheese.
Makes 4 servings