14 Oct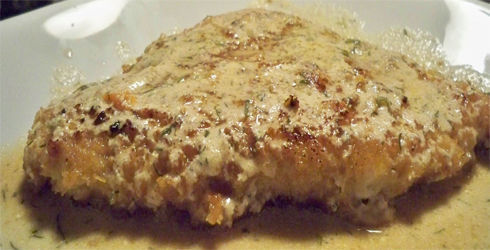 Until recently, when I heard the word Schnitzel I thought of  something sausage like.  In reality, Schnitzel is a traditional Austrian dish made with pork or veal, coated in breadcrumbs and fried.  It is often topped with a sauce, and this is what determines the different types and makes them very special.

Pork Schnitzel variations are found throughout the world, each country having a slightly different recipe.  I prefer to make a dish similar to the German recipe, which is a boneless pork cutlet or chop (can be made with veal if you prefer) pounded thin to about 1/4 inch, and breaded then fried in a pan with light oil.  Top it all off with an nice creamy sauce and you have one easy delicious dinner.
Recipe: Pork Schnitzel
Summary: Pork Schnitzel variations are found throughout the world, each country having a slightly different recipe.
Ingredients
4 boneless pork chops (1 pound), ½ inch thick
¼ cup flour
1 teaspoon seasoned salt (Lawrey's is good or just plain salt)
¼ teaspoon freshly ground black pepper
1 egg, beaten
2 tablespoons milk
¾ cup panko bread crumbs
1 teaspoon paprika
3 tablespoons olive oil
¾ cup chicken stick
½ teaspoon dried dill or 2 teaspoons chopped fresh dill
½ teaspoon salt
½ cup sour cream
Instructions
Use a meat hammer to pound the pork cutlets to ¼ – 1/8 inch thickness. Cut small slits around the edges of the cutlets to prevent curling.
Set out 3 shallow bowls. One with a mixture of the flour, seasoned salt, and pepper. The second with the egg and milk whisked together. The third with a mixture of panko bread crumbs and paprika.
Heat the olive oil in a large skillet on medium high heat. Dredge the cutlets first in the seasoned flour, then dip the cutlets in the egg mixture, and then into the mixture of panko and paprika.
Working in batches, sauté the cutlets for 3-4 minutes on each side. Remove the culets from the skillet and cover with foil or place in a warm oven to keep warm.
Add the chicken stock into the skillet to deglaze the pan, scraping the bottom of the pan to loosen the brown bits. In a small bowl mix the dill and salt into the sour cream. Stir the sour cream mixture into the chicken stock. Heat and stir until mixture thickens (do not let boil).
Quick notes
Serve the cutlets with the sauce, and lemon slices if you like.
Preparation time: 20 minute(s)
Cooking time: 20 minute(s)
Number of servings (yield): 4
Culinary tradition: German
Rating 5 stars:  ★★★★★ 1 review(s)
Copyright © The Hungry Wife.