14 Aug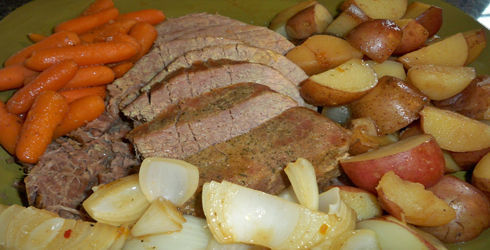 Pot Roast is a perfect comforting meal.  Meat that has been slow cooked so it is incredibly tender, and simmered with delicious spices, cooked along with simple potatoes, carrots and onions.  Every household needs a good pot roast recipe, and Slow Cooker Pot Roast is not only the best I have come across and made myself, but it is also the easiest.

Slow Cooker Pot Roast is a recipe that my mother makes.  While waiting for our first baby to be born, my mom came down to help us out.  Slow Cooker Pot Roast was a dinner she made one night, and we just fell in love with the awesome taste and simplicity of this recipe.  I love making meals in a crock pot, everything turns out with tons of flavor and super tender.  If you're a big fan of crock pot cooking, or just looking for a super simple pot roast recipe, look no further.
With only four ingredients, you couldn't ask for a more easy pot roast.  When I first looked at the the seasonings used, I was a little skeptical about how it would turn out.  Using the dry Italian and Ranch dressing packets, and a brown gravy packet makes for a winning combination.
Slow Cooker Pot Roast
3-4 pound Pot Roast (Chuck, Eye of round, Rump or your favorite roast)
1 package Good Seasons Italian Dressing
1 package Hidden Valley Original Ranch Dressing
1 package brown gravy
½-3/4 cup water
Red potatoes, washed.  If large cut into quarters
2-3 small onions, quartered
Baby cut carrots
Put pot roast into slow cooker, fat side down.  Sprinkle with Italian dressing, Ranch, and brown gravy.  Add water on top of roast.  Cook on LOW for 6 hours.  After 6 hours, flip pot roast over and add veggies on top of roast.  Continue to cook on LOW for an additional 2 hours.
Makes 4-6 servings