25 Mar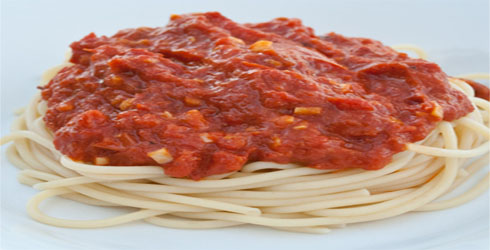 Simple Pasta Sauce is a something I came up with when I had planned a nice spaghetti dinner, but soon realized that I had used up my supply of homemade Weekend Tomato Sauce, and had no store bought sauce in my pantry.  Dinner was at risk, I had no backup plan and had to come up with a solution quick.  I looked in the pantry, and much to my joy, I realized I could whip up a yummy sauce that wouldn't take hours to prepare and cook.

I like tomato Pasta Sauce with a bit of spice, so I add in a bit of crushed red pepper.  Be sure to taste your sauce before added in more spices.  I estimated how much I used, basically I would add some in, taste it and adjust if needed.
Recipe: Simple Pasta Sauce
Summary: A quick tomato sauce for nights when time is short. No one will know it only took you about a half hour.
Ingredients
1 tablespoon olive oil
1 onion, chopped
1 stalk of celery, chopped
1 clove garlic, chopped
28 ounce can crushed tomatoes
6 ounce can tomato paste
1/4 – 1/2 cup water
1-2 tablespoons Italian seasoning
1 teaspoon crushed red pepper
salt and pepper to taste
Instructions
Heat oil in a saucepan. Add onions, celery, and garlic. Heat for a 3 minutes or until veggies are softened. Add in the remaining ingredients. Add enough water to get the sauce to your desired thickness. When adding in the seasonings, start with a lesser amount and then continue to add to taste.
Let simmer for about 10 minutes. If you wish, add meatballs, sausage, or try my spinach balls!
Quick notes
I let the sauce simmer while the pasta is boiling. That's about all the time it really needs. I like my sauce with a little spice, so I add in a nice amount of crushed red pepper, but add as little or as much as you like.
Preparation time: 5 minute(s)
Cooking time: 10 minute(s)
Diet type: Vegetarian
Number of servings (yield): 6
Rating 5 stars:  ★★★★★ 4 review(s)
Copyright © The Hungry Wife.