3 Dec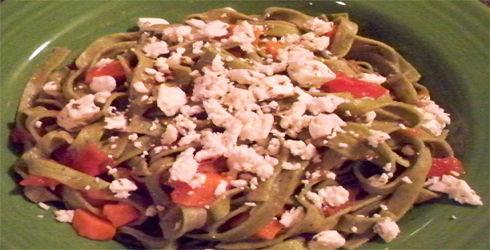 Trattoria Spinach Fettuccine is the kind of dish that small, neighborhood Italian restaurants serve.  It features an intensely flavored double-tomato sauce with tangy feta cheese.  This recipe is so simple with few ingredients that I almost wasn't sure if it would live up to The Hungry Wife requirements.  I sure was glad that I tried this out, it has a delicate flavor that shines so well.  All the ingredients work together to make a beautiful pasta that doesn't require any extra seasoning.

Trattoria Spinach Fettuccine is another dish to keep in mind for those extra busy weeknights, when cooking is the last thing you want to do.  So simple to prepare, that it only takes about 18 minutes, start to finish!  The perfect fast, yummy, healthy meal for your family.  Sure beats eating a frozen pizza.  Because this dish is so lightly seasoned, it really is important to use garlic and herb or peppercorn feta.  I tend to have a bit of a heavy hand with the cheese, but that's because I'm a cheese-head and think there is not such thing as too much.
Trattoria Spinach Fettuccine Recipe
1 9-ounce package refrigerated spinach fettuccine
2 tablespoons chopped shallot
1 tablespoon olive oil
4 red and/or yellow tomatoes, chopped (2 cups)
1 medium carrot, finely chopped
¼ cup oil-packed dried tomatoes, drained and snipped
½ cup crumbled garlic and herb feta cheese or peppercorn feta cheese (2 ounces)
Using kitchen shears, cut fettuccine in half crosswise.  Cook pasta according to package directions.  Drain; return pasta to hot pan.
Meanwhile, in a large skillet cook shallot in hot oil over medium heat for 30 seconds.  Stir in fresh tomatoes, carrot, and dried tomatoes.  Cook, covered, for 5 minutes, stirring once.  Spoon tomato mixture over cooked pasta; toss gently.  Sprinkle each serving with feta cheese.
Makes 4 servings
Nutritional Information:
Per serving:  318 calories, 12 g fat, 77 mg cholesterol, 294 mg sodium, 43 g carbohydrates, 2 g fiber, 13 g protein.