16 Aug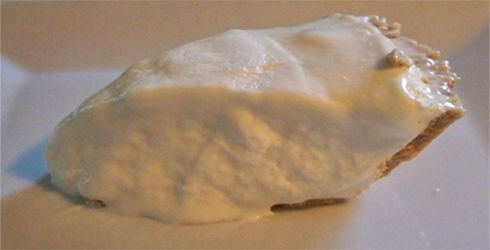 Frozen Lemonade Pie is an easy recipe and is the perfect dessert to beat those hot summer days.  Frozen Lemonade Pie is a cinch to make with only 4 ingredients and no baking required, making this about the easiest recipe in existence.  Just mix the ingredients together and place in the freezer.  You will be so happy when the mercury rises that you have some cool refreshing Frozen Lemonade Pie to enjoy.

If you like Key Lime, then you will most certainly love this Frozen Lemonade Pie.  It is a little bit sweet and a little bit tart.  You can adjust just how tart it is by adding more or less of the sweetened condensed milk.  What I love most about this recipe is that you can get creative with your flavors.  Don't feel like frozen lemonade should be your main ingredient?  Make it a Limeade, or just look through the frozen juice section of your local grocer and see what else they have that would sound delicious as a frozen treat.
Frozen Lemonade Pie Recipe
1 (14 ounce) can sweetened condensed milk
1 (6 ounce) can frozen lemonade, thawed
1 (8 ounce) carton of cool whip
Ready to use graham cracker crust
Graham cracker crumbs (optional)
Thaw cool whip in the refrigerator according to package directions.  Combine and mix all ingredients.  Do not beat, use a spatula and fold together until completely mixed.  You may not need to use all of the sweetened condensed milk, add about half and taste to see if more is needed.  Continue to add in the milk until the taste is to your liking.
Place lemonade filling in graham cracker pie crust.  The filling may be enough to make 2 pies, depending on how large the crust is and how full you make it.  Sprinkle with graham cracker crumbs is desired and freeze.  It is best to let freeze for 12-24 hours before serving.  Freezing for less time can result in the filling being a little runny but still equally delicious.