11 Apr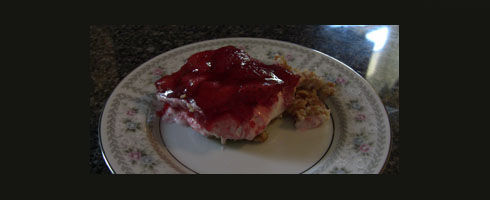 One of my neighbors growing up makes this dessert dish all time, and I was really happy when I found the recipe in one of my cookbooks.  It is very light, making it perfect for a hot summer dessert when cakes can be a bit heavy.  It reminds me of strawberry shortcake, and is great to bring to summer picnics and barbecues.
Recipe: Strawberry Delight
Summary: A simple, light dessert that is super tasty. Perfect for summer time.
Ingredients
Crust:
2 cups pretzels, crushed
3 tablespoons sugar
¾ cup margarine, melted
Second Layer:
1 (8 ounce) package cream cheese
2 cups Cool Whip
1 cup sugar
Third Layer:
1 (.6 ounce) package strawberry Jell-o
2 (10 ounce) packages frozen strawberries, cut into bite size pieces if whole berries
2 cups boiling water
Instructions
Crust:
Add all ingredients in a bowl and mix well. Bake in a 9×13-inch pan 8 minutes at 400°. Let cool.
Second Layer:
Mix together well and spread over cooled crust. Place in refrigerator to cool until third layer is ready.
Third Layer:
Combine and place in refrigerator until partially congealed. Spread over second layer. Refrigerate several hours, cut into squares.
Preparation time: 20 minute(s)
Cooking time: 8 minute(s)
Number of servings (yield): 6
Culinary tradition: USA (General)
Rating 5 stars:  ★★★★★ 1 review(s)
Copyright © The Hungry Wife.