12 Jul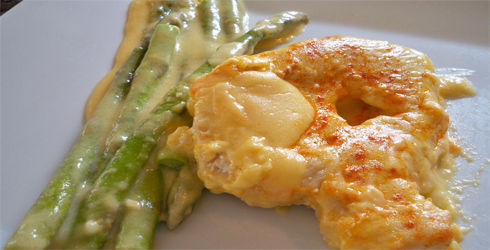 Chicken Divan Recipe is another great dish for those busy weeknights.  Super simple to prepare and delicious, Chicken Divan is a great recipe where you are cooking the veggies right along with everything else.  If you have picky eaters that are resistant to trying new veggies, cooking them along with chicken that is smothered in a cheese sauce is a wonderful way to sneak them in.

Another thing I love about Chicken Divan Recipe, is that you can make it ahead of time and keep in the refrigerator until it is time to bake.  This can really help save you time in the evening, just pull it out and pop it in the preheated oven.  A quick tip when making the cheese sauce, taste it before you add it to the baking dish.  You may feel like you would prefer some extra seasoning, just and salt and pepper to taste.  You could also add in a pinch (or more if you like) of crushed red pepper to add a little heat.
I happen to love asparagus in any form, but if you absolutely don't like it, you can use broccoli and cauliflower or some of your other favorite veggies.
Recipe: Chicken Divan
Summary: Chicken Divan Recipe is another great dish for those busy weeknights.
Ingredients
6 thin cut chicken breasts
¼ cup butter
¼ cup flour
1 cup chicken broth
1 cup milk
1 ½-2 cups shredded Cheddar cheese
2 tablespoons mayonnaise
1 teaspoon Dijon mustard
1 bunch asparagus, woody steams removed
Paprika and almonds for garnish (optional)
Instructions
Cook chicken until tender in simmering salted water. Remove from water and set aside. In a saucepan, melt butter over medium-high heat.
Stir in flour, and gradually add broth and milk. Stir until smooth, then add cheese, mayonnaise, and mustard. Stir until well combined and cheese in melted.
Preheat oven to 325°. Arrange asparagus in a oblong baking dish.
Place chicken breasts on top, cover with cheese sauce, and sprinkle with paprika and almonds, if desired.
Bake for 30 minutes, uncovered.
Preparation time: 10 minute(s)
Cooking time: 30 minute(s)
Number of servings (yield): 6
Rating 5 stars:  ★★★★★ 2 review(s)
Copyright © The Hungry Wife.