24 Jun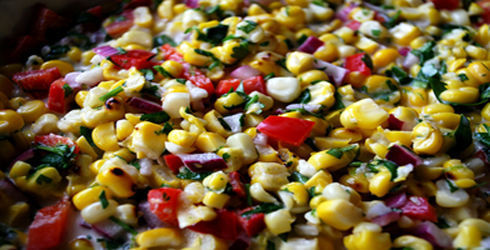 This is a wonderful Grilled Corn Salad that appears in our house every summer when corn is super sweet and in season.  Grilled Corn Salad really showcases what summer corn is all about.  Sure, you could add some tomatoes, avocados, and other vegetables that are in season, but I like to keep this simple.  This dish will complement any summer outing and will last the test of time.  You can transform this Salad into many different things, a salsa on your burrito, or made more complex with some additional ingredients (I like avocado if you have one).

Grilled Corn Salad is very reminiscent of the Texas Caviar that can be found in the Appetizer section of The Hungry Wife.  What separates this apart from the salsa and "caviar", is the limited amount of ingredients that make it easy to eat alone as a side dish.  I love the smoky flavor that roasting or grilling adds, and it is well worth the time and effort.
Grilled Corn Salad Recipe
18 ears of corn in husks, soaked in water 10-15 minutes
1 large sweet red pepper
1 bunch green onions, chopped
9 tablespoons cider vinegar
1 ½ tablespoons honey
¾ teaspoon ground cumin
4 ½ tablespoons vegetable oil
Salt and freshly ground black pepper to taste
Prepare gill or smoker.  Grill or smoke corn 25 minutes over low heat, turning frequently.  Add red pepper to the grill alongside this and cook about 15 minutes, turning frequently, until husks are browned and pepper is blackened.  Cook to room temperature.
Cut kernels from cobs and transfer kernels to a large bowl.  Peel pepper, rinsing if necessary, and chop.  Add red pepper and green onions to corn.  In a separate bowl, whisk together vinegar, honey, and cumin.  Gradually add oil, whisking constantly, then pour over vegetables.  Season to taste and serve at room temperature.