26 Jun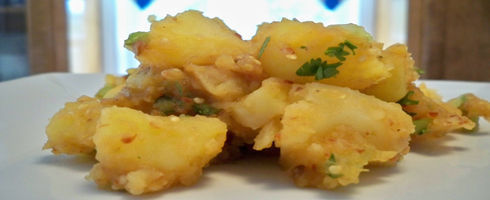 Spicy Potato Salad is more than you could ever ask for.  It is extremely extremely low in fat and calories, no cholesterol, and super flavorful.  In the United States, we're accustomed to potato salad dressed with mayonnaise or oil and vinegar.  But this potato salad is both very low-fat and vegan.

This Spicy Potato Salad gets back to its native North American roots, using smoky, spicy condiments made from its indigenous neighbors, chipotle peppers and tomatillos.  Adjust the hotness of the salad by varying the amount of chipotles you use.  It's a great addition to a Tex-Mex buffet, with an assortment for goodies for tacos, burritos, and quesadillas spread across the table.
Spicy Potato Salad Recipe
8 cups water
6 potatoes (3 pounds)
Dressing:
¾ cup canned tomatillos, packed
1 to 2 canned chipotle peppers plus 1 teaspoon adobo sauce*
1 tablespoon fresh lemon juice
1 teaspoon brown sugar, packed
½ teaspoon salt
1 tablespoon chopped fresh cilantro
1/3 cup diced celery
*We recommend La Torre brand canned chipotle in adobo sauce.  Look for it in small jars or cans in the ethnic section of supermarkets.  The chipotles are smoked hot peppers and the adobo sauce is a spicy thick tomato puree.
Bring the water to a boil in a covered pot.
Meanwhile, peel the potatoes and cut them into 1-inch cubes.  Cover with cool water until you are ready to cook them, so they won't turn brown.  When the water boils, drain the potatoes, and carefully ease them into the boiling water.  Cover and simmer for 15 to 20 minutes, until tender.
While the potatoes simmer, puree the tomatillos, chipotles and adobo sauce, lemon juice, sugar, and salt in a blender.  When the potatoes are cooked, drain them and quickly plunge into cold water to stop the cooking.  Drain again and place in a serving bowl.  Add the tomatillo dressing and toss well.  Stir in the cilantro and celery.
Serve warm or chill for 30 minutes before serving.
Makes 6 servings.
Nutritional Information
Per 8-ounce serving: 172 calories, 3.9 g protein, 0.3 g fat, 39.8 g carbohydrates, 0.1 g saturated fatty acids, 0 mg cholesterol, 263 g sodium, 3.4 g total dietary fiber
Moosewood Restaurant New Classics, Copyright 2001, Moosewood, Inc., Clarkson Potter, Publishers