17 Jun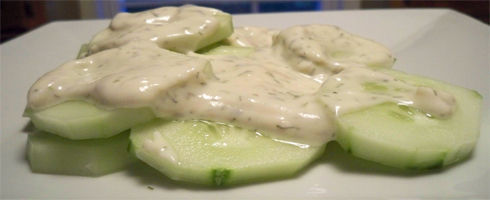 Yogurt Tahini Dressing, along with brown rice, tofu, and miso soup crossed over into mainstream cuisine about thirty years ago and never left.  To make a delicious lower-fat version, just use nonfat yogurt.

Some sauces, salsas, and seasonings are not for the faint of heart.  If any food will wake you up and make you look twice, it's a fiery salsa, gingery fruit chutney, or a racy salad dressing that packs a wallop.  For those who prefer flavors from a more temperate zone, try out mild fruit chutneys and salsas.
There is nothing really tricky or mysterious about this accompaniment.  The ingredients in this Yogurt Tahini Dressing are mostly familiar and readily available in large supermarkets.  The Hungry Wife simply put together good ingredients in new ways that we find exciting.  With the generous use of toppings, you can take a dish that is ordinary and familiar and transform its flavor as well as its presentation.  it's like wearing sensational new jewelry with a favorite dress that you've had forever.  Nobody even recognizes the dress.
Old favorites, new accents, simplicity, and a little bit of daring characterizes many sauces, salsas and dressings.  They are versatile enough to be used as side dishes, dips, and toppings, as well as garnishes and flavorings.  Most will keep well in the refrigerator for a week or longer.  Maybe… just maybe, there is something new under the sun.
Serve this creamy, tangy sauce of Falafel Burgers, Tofu Burgers, Moroccan Fish, or on your favorite cucumber salad or greens.
Yogurt Tahini Dressing Recipe
1 cup plain yogurt
2 tablespoons tahini
1 to 2 garlic cloves, minced or pressed
1 tablespoon fresh lemon juice
2 teaspoons chopped fresh dill
salt and black pepper to taste
Combine all of the ingredients and let sit for at least 15 minutes for the flavors to marry.  Serve cold.
Yields about 1 ¼ cups
Nutritional Information
Per 1-ounce serving: 30 calories, 1.8 g proteins, 1.6 g fat, 2.4 g carbohydrates, 0.3 g saturated fatty acids, 0.4 mg cholesterol, 19.3 mg sodium, 0.3 g total dietary fiber.
Moosewood Restaurant New Classics, Copyright 2001, Moosewood, Inc., Clarkson Potter, Publishers