28 Apr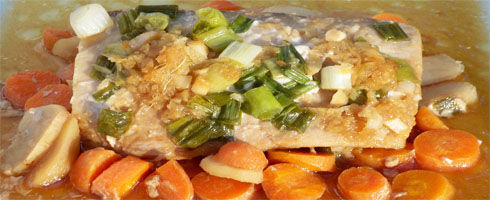 A packet of fresh fish and vegetables steamed in savory or spicy flavors is like a gift.  This Gingered Fish in a Packet is a wonderful dish.  Each individually wrapped "present" releases a burst of aromatic steam when opened.  The flavors mingle sweet with spicy, hot with salty, briny with piquant.  Nothing escapes until the final moment of opening the foil.  Inside, the fish is tender and succulent, the vegetables are perfectly cooked, and the sauce has bathed every ingredient.
When cooking fish in a packet, potatoes take too long and asparagus and snow peas lose their bright color.  Carrots, onions, zucchini, yellow squash, and bell peppers are better choices.  Once you prepare all of the ingredients, each packet can be assembled and folded easily and quickly.  In general, I don't recommend that you prepare the packets ahead of time because some ingredients may react with the aluminum foil.  Serve immediately to avoid overcooking.

Gingered Fish in a Packet Recipe
4 six-ounce fish fillets (salmon and mahi work well)
¼ cup vegetable oil
8 garlic cloves, minced or pressed
¼ cup grated fresh ginger root
¼ cup soy sauce
¼ cup rice vinegar or lemon juice
½ teaspoon dark sesame oil
2 cups peeled and sliced carrots
1 cup sliced water chestnuts
2 cups red bell pepper, sliced
¼ cup chopped scallions
Preheat oven to 450°.  For each fillet, fold a 12×24-inch sheet of aluminum foil in half to make a double-thick 12-inch square, set aside.
Rinse the fish, pat dry and set aside.  Heat the oil in a small saucepan.  Add the garlic and ginger and sauté on low heat for about 1 minute.  Stir in the soy sauce, rice vinegar or lemon juice, and sesame oil and set the sauce aside.
Place one fourth of the carrots and water chestnuts in the center of each foil square.  Drizzle on a bit of the sauce and place a fish fillet on top.  Arrange the red peppers on top of each and pour the remaining sauce evenly over all.  Fold each square into an airtight packet, crimp the edges shut, and place on an unoiled baking sheet.
Bake for 20 minutes, until the fish flakes easily with a fork.  Avoid the steam when opening the packets.  Serve topped with the scallions.
Nutritional Information:
Per 13.5 ounce serving: 499 calories, 32.3 g protein, 31.5 g fat, 21.8 g carbohydrates, 7.1 g saturated fatty acids, 81.4 mg cholesterol, 924.5 mg sodium, 5 g total dietary fiber
Moosewood Restaurant New Classics, Copyright 2001, Moosewood, Inc., Clarkson Potter, Publishers