9 Nov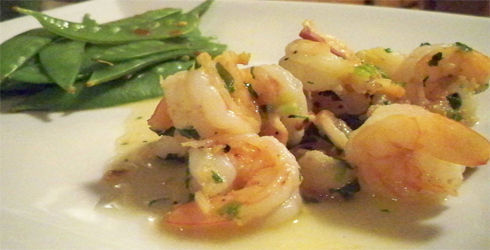 One of the things I love most about making seafood for dinner, is how quick you can make a healthy and delicious meal for your family.  Shrimp and Pancetta takes about 30 minutes total, including the prep time, to make and put on the table.  Another thing I love about this recipe is how simple it is.  Few ingredients and a quick cooking time, make Shrimp and Pancetta a perfect weeknight meal when time is of the essence.

Shrimp and Pancetta has a light salty, smoky flavor and that is all you need to highlight the seafood.  Pancetta is a type of dry cured meat, similar to bacon.  If you have a hard time finding pancetta in you local grocery store, you can substitute it with bacon, cut into pieces and use the same cooking directions.  This dish can be served with a side of vegetables, tossed with pasta, or even on top of a salad.  Whatever you heart desires.  It is very important to use uncooked shrimp in this recipe, you do not what to overcook it, making it tough and chewy.  Buying them uncooked prevents over cooking.  Remember, shrimp does not take long to cook.
Shrimp and Pancetta Recipe
4 ounces Pancetta, cubed
2 packages (16 ounces each) large, uncooked shrimp, thawed, peeled and deveined
salt and pepper to taste
1 bunch green onions, thinly sliced
1 cup chicken stock/broth
2 ½ tablespoons Italian parsley, finely chopped
2 tablespoons butter
Heat a large skillet on medium.  Add pancetta to skillet.  Cook, stirring often, about 10 minutes or until almost crispy.
Season shrimp with salt and pepper.  Raise heat to medium-high; add shrimp and green onions.  Cook, stirring for 2 minutes.  Add stock; bring to a simmer.  Cook about 2 minutes or until internal temperature reaches 130°F.  Remove pan from heat.
Add parsley and butter; stir until butter melts.
Makes 8 servings.
Nutritional Information:
Per servings (1/2 cup shrimp, 2 tablespoons sauce): 280 calories, 1 g carbohydrates, 23 g protein, 12 g fat, 135 mg cholesterol, 370 mg sodium.