7 Jun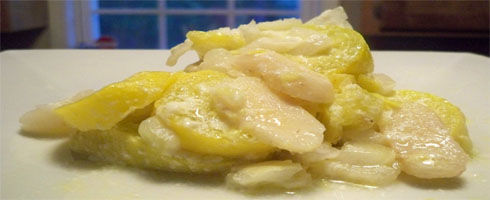 This Creamy Squash Casserole recipe was made in an effort to use up all of my yellow squash supply.  Just like all the zucchini we have been getting from our CSA and our own garden, we have and overabundance of yellow squash.  In an effort to do something different with it, I have been searching through all my cookbooks.  The researching paid off with the Creamy Squash Casserole.
Even though it is called creamy, this dish is not heavy.  All the ingredients work perfectly together, Creamy Squash Casserole has an amazing aroma that will have your mouth watering.

Summer squash appears in many different fruit shapes and colors:
Scallop or Patty Pan is round and flattened like a plate with scalloped edges, usually white but sometimes yellow or green.
Constricted neck is thinner at the stem end than the blossom end, classified as either "crookneck" or "straightneck" depending on if the stem end is straight or bent, and is usually yellow.
Cylindrical to club-shaped Italian marrows, such as zucchini, cocozelle and caserta, are usually shades of green, but may be yellow or nearly white.
The varietal selection of summer squash has markedly changed in recent years and the number of varieties offered has greatly expanded as the result of new interest, hybridization and introduction of disease resistance. The number of varieties is staggering.
Creamy Squash Casserole Recipe
1 ½ pounds yellow squash, sliced
¾ cup grated sharp Cheddar cheese
1 cup sour cream
4 ounces pimentos, drained and sliced (optional)
5 ounces raw, scraped Jerusalem artichokes (or water chestnuts), sliced
1 medium onion, finely chopped
½ stick butter
4 ounces of buttered, salted bread crumbs (optional)
Preheat oven to 350°
Cook the squash in salted water until tender and drain well.  Mix squash, cheese, sour cream, pimentos, water chestnuts, and onions, stirring gently.
Place in a 1 ½ or 2-quart baking dish and dot with butter.  Sprinkle bread crumbs on top.  Bake for 30 minutes.
Makes 8 servings