21 May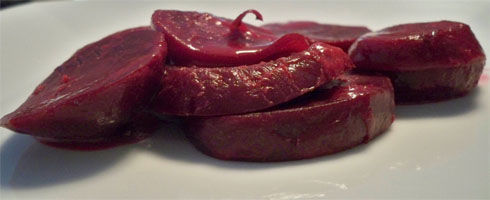 Beets – If root vegetables are underrated, they are probably considered the worst of the lot.  So much so, in fact, that many people have never cooked fresh ones (since boiling them can sometimes make a bit of a mess in the kitchen).
Once solution to this dilema, try baking beets whole, wrapped in foil (bake at 400 degrees, on a baking sheet, about 1 hour or until tender).  Not only will you discover a whole new flavor, but cleanup is a snap.  And when you try them, make a few extra.  They are a delicious and colorful addition to many dishes: You can dice or slice them and add to a salad; cut in julienne, toss in butter and serve as a side dish or garnish or marinate them and serve as part of an antipasto plate (with a slice of salami, some good olives, a bit of cheese, etc.).  Or puree the baked beets smooth or coarse, season with a touch of nutmeg and work in a piece of sweet butter, and discover a whole new vegetable dish.
One nice part of buying these at farmers' markets is that you can often find them with their green tops attached.  To prepare the greens, cut them from the roots, wash well, trim off thick stems, and steam or saute in butter.  And a new development, found at some farmers' markets, is golden beets, which taste like red beets but lack their pigment, betanin.

Orange-Glazed Beets Recipe
4 medium beets (1 pound) or one16-ounce can sliced beets, drained
1 tablespoon butter or margarine
1 tablespoon brown sugar
1 teaspoon cornstarch
¼ teaspoon finely shredded orange peel
¼ cup orange juice
Cut off all but 1 inch of fresh beet stems and roots; wash.  Do not peel.  Cook, covered, in boiling salted water 35 to 45 minutes or until tender.  Drain and cool slightly. Slip skins off and slice.
Meanwhile, melt butter in a medium saucepan.  Stir in brown sugar and cornstarch.  Stir in orange peel and juice.  Cook and stir for 2 minutes more.  Stir in cooked or canned beets; heat through.
Makes 4 servings
Nutritional Information:
Per serving: 94 calories, 3 g fat, 8 mg cholesterol, 116 mg sodium, 15 g carbohydrates, 3 g fiber, 2 g protein