18 Apr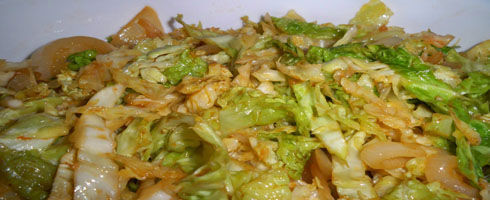 Spicy Stir-Fried Savoy Cabbage is a quick side dish, that can be made just before sitting down to eat.  Cook thinly sliced savoy cabbage with the typical Chinese flavors of ginger, soy sauce, and chili paste.  For Variety , try this recipe with Chinese cabbage, common green cabbage, kale, or bok choy and sample their distinctive flavors.  I tend to like things a little on the spicy side, so I add in some extra chili paste.
Spicy Stir-Fried Savoy Cabbage Recipe
3 tablespoons vegetable oil
2 cups sliced onions
1 tablespoon grated, peeled fresh ginger root
6 cups thinly sliced savoy cabbage
½ to 1 teaspoon Chinese chili paste, or to taste (suggest Sriracha)
2 tablespoons soy sauce, or to taste
Heat the oil in a wok or large skillet until hot, but not smoking, about 4 minutes.  Add  the onions and ginger and stir-fry until the onions are limp.  Add the cabbage and chili paste and stir-fry until the cabbage is crisp-cooked and the outer edges turn bright green, about 10 minutes longer.  Mix in the soy sauce, toss once or twice, and serve immediately.
Yields 4 servings
Nutritional Information:
Per 8 ounce serving: 164 calories, 4.3 g protein, 11 g fat, 15.3 g carbohydrates, 2.8 g saturated fatty acids, 0 mg cholesterol, 436.2 mg sodium, 5.2 g total dietary fiber
Moosewood Restaurant New Classics, Copyright 2001, Moosewood, Inc., Clarkson Potter, Publishers