29 Nov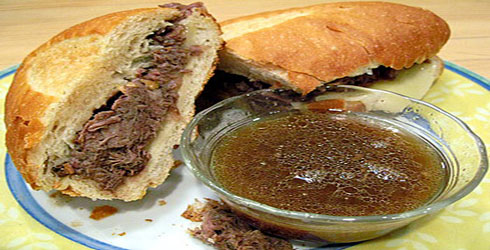 French Dip Sandwiches are a favorite of mine.  I used to only eat them when out at restaurants, not having a good recipe to make them myself.  This is about as simple as it gets.  Even though the cooking time is long, your not really doing much, but letting the slow cooker do its job.  The great thing about making this roast beef in your slow cooker, is that unlike roasting beef in the oven, you don't have to worry about the meat drying out.  The final product is a super moist, tender and flavorful beef.

I found this recipe while perusing Pinterest, and thought I would give it a try.  The recipe I found did not include sauteed veggies or the horseradish sauce.  I like adding the extra toppings on my French Dip, I think it completes the meal.  They are totally optional though, so if you're not sure about any of them, rest assured the sandwiches are amazing without the add ons.
Recipe: French Dip Sandwiches
Summary: French Dip Sandwiches are a crowd pleaser. Use your slow cooker to make super tender and flavorful roast beef..
Ingredients
Approximately 3 ½ pounds beef chuck roast
16 ounces of beef broth
1 10.5 ounce can of condensed French Onion soup
6 ounces red wine
1 teaspoon garlic powder
salt and pepper, to taste
4-6 French rolls
Sliced Provolone cheese
Sauteed onions, mushrooms, and green peppers (optional)
Horseradish sauce (optional)
Instructions
Trim the excess fat off of the beef roast and season meat all over with salt and pepper. Pour the beef broth, French onion soup, red wine and garlic powder into slow cooker, and place beef roast into liquid.
Cook on low for 6-8 hours. Slow cookers have different time intervals that you can select, so work with your cooker. Depending on how the settings on your slow cooker work, the time will vary. Since this is cooking in liquid, you don't have to worry about the meat drying out in the same way you might if you were roasting the meat in the oven. You are looking for the meat to be super tender.
Take beef out and rest it, covered with aluminum foil, for about 15 minutes. Slice beef and return to slow cooker on low for another 30 minutes.
Lightly toast the bread, if using horseradish sauce, spread on rolls and evenly distribute cheese. Divide beef (and onions, peppers, and or mushrooms, if using) onto rolls and spoon the beef juice into ramekins or other small bowls and eat everything while it is hot. Serve each sandwich with its own dip.
Quick notes
Make your own horseradish sauce by combining mayonnaise with a little bit of horseradish. Be sure to add small amounts of horseradish at a time, until it is just right. for you. Horseradish is powerful, so just a tad goes a long way.
Variations
To kick up the flavor of these sandwiches, add sauteed onions, green peppers, and/or mushrooms. I like to spread on a horseradish sauce, I think it nicely completes the dish.
Preparation time: 25 minute(s)
Cooking time: 9 hour(s)
Number of servings (yield): 6
Rating 5 stars:  ★★★★★ 1 review(s)
Copyright © The Hungry Wife.