22 Aug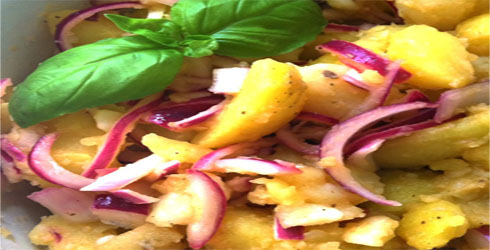 If you have been on The Hungry Wife searching recipes, you may have noticed that I have several Potato Salads.  I love them.  Potato Salad is a great dish that can be easily made and served year round.  Salt and Vinegar Potato Salad is a great variation on the original, and perfect for those with vegetarian diet restrictions, or if you are just looking to replace the mayo for healthier dish.

I came across the recipe for Salt and Vinegar Potato Salad when I was needing to use up my potatoes, but didn't have enough mayonaise to spare.  It is also extremely hot here in South Carolina, and cooking light meals is needed in summertime.  Potato Salad with mayo can be kinda heavy.  I was super excited when I found the recipe on Epicurious, and it did not disappoint.
Recipe: Salt and Vinegar Potato Salad
Summary: If you love salt and vinegar potato chips, you'll be hooked on this potato salad after one bite!
Ingredients
1 large red onion, cut lengthwise into 1/3-inch wide wedges and layers separated
½ cup plus 2 tablespoons cider vinegar
2 teaspoons salt
5 pounds medium yellow potatoes, such as Yukon Gold
2 to 2 ½ teaspoons Old Bay seasoning
1 ¼ cup sugar
¾ cup extra-virgin olive oil
Instructions
Toss together onion, 2 tablespoons vinegar, and ½ teaspoon salt in a bowl. Marinate at room temperature, tossing occasionally, until slightly softened and pink, about 45 minutes.
Cover potatoes with salted cold water in a 5 to 6-quart pot, then simmer, uncovered, until just tender, 15 to 20 minutes.
While potatoes cook, whisk together 2 teaspoons Old Bay seasoning with sugar, remaining 1 ½ teaspoons salt, and remaining ½ cup vinegar in a small bowl.
Drain potatoes in a colander, and when cool enough to handle but still warm, peel and cut into ½-inch wide wedges. Toss warm potatoes with vinegar mixture in a large bowl. Add onion mixture and oil, tossing to combine. Add more Old Bay seasoning (to taste) if desired. Serve warm or at room temperature.
Quick notes
Onion can be marinated, covered and chilled up to 1 day.
Preparation time: 20 minute(s)
Cooking time: 45 minute(s)
Diet type: Vegetarian
Number of servings (yield): 12
Culinary tradition: USA (General)
Rating 5 stars:  ★★★★★ 3 review(s)
Copyright © The Hungry Wife.