1 May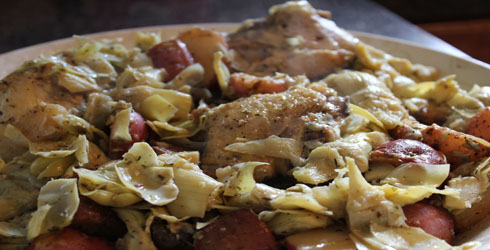 Chicken Vesuvio, or Pollo alla Vesuvio, is another recipe from the cookbook, Whatever Happened to Sunday Dinner? by Lisa Caponigri.  Chicken Vesuivo is a simple stove-top braise that is incredibly delicious, giving you super tender chicken with a wonderful light flavor.  Just be sure to brown the chicken and potatoes well before proceeding with the recipe – the caramelization adds lot of flavor and the browned bits stuck to the bottom of the pan become the basis of a fantastic pan sauce.

When making this dish, I halved the ingredients from the original recipe.  Mainly, because the original recipe serves 8 to 10 people, and I needed no where near that much.  I did, however, keep the 2 cans of artichokes.  I like artichokes and think the more the merrier in this dish.  If you don't feel the same way I do about artichokes, simply add only 1 (14 ounce) can of artichokes, and this way they wont be as present in the dish.
Recipe: Chicken Vesuvio
Summary: Chicken Vesuvio is a traditional Italian dish. This stove-top braise is incredibly delicious, full of delicate flavors.
Ingredients
4 tablespoons extra-virgin olive oil (or more if needed) to coat the pan
1 chicken, cut into serving pieces
Sea salt
Freshly ground black pepper
1 ½ pounds small red potatoes, cut in half
2 large cloves garlic, minced
½ cup dry white wine
½ cup chicken stock or reduced-sodium chicken broth
1 teaspoon dried oregano
½ teaspoon dried thyme
2 cans (14 ounces each) artichoke hearts packed in water, drained (if marinated, rinse well)
1 tablespoon unsalted butter
Instructions
Preheat oven to 450°F.
Heat the oil in a Dutch oven over high heat. Sprinkle the chicken with salt and pepper. Working in batches, brown the chicken on all sides until golden. Remove the pieces to a plate as they brown.
Add the potatoes to the Dutch oven and cook until the cut sides are golden, about 10 minutes. Add the garlic and stir for 1 minute. Add the wine and scrape up the browned bits form the bottom of the pot and allow to reduce for 3 minutes.
Add the stock, oregano, and thyme and return the chicken to the pot. Stir everything gently until the stock mixture boils.
Cover the Dutch oven and bake the chicken until it is cooked through, about 20 minutes. Transfer the chicken and potatoes to a platter and cover with aluminum foil to keep hot.
Add the artichokes to the pot, covered, and simmer until heated through, about 4 minutes. Reduce the heat to low and stir in the butter. Pour the sauce over the chicken and potatoes, and serve.
Quick notes
Use one 14 ounce can of artichokes if you prefer less.
Preparation time: 15 minute(s)
Cooking time: 45 minute(s)
Number of servings (yield): 4
Culinary tradition: Italian
Rating 5 stars:  ★★★★★ 4 review(s)
Copyright © The Hungry Wife.