25 May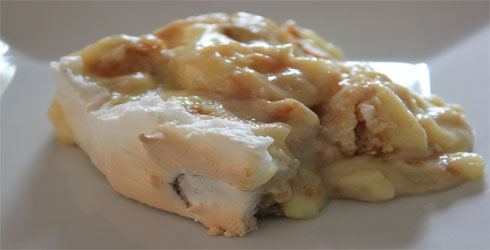 Southern Banana Pudding is the ultimate dessert comfort food.  It is rich and creamy, with the subtle flavors of banana and vanilla.  Living down south for the past few years now, I have embraced the cuisine and on the hunt for the most delicious dishes.  Banana pudding is a great way to use up those bananas before they go bad.  Sometimes I will make a banana bread, but, this is my favorite way to make quick use of ripe bananas.

When looking for summertime desserts, you want something that is light and fruity.  That is what make Southern Banana Pudding so great.  It is easy to make, and everyone loves it!  I have seen many recipes out there that call for a box of instant pudding.  Don't be afraid to make your own!  It is not that hard, and you will totally appreciate the flavor that you get from it.  Be sure to try out this simple, traditional Southern dessert for your next potluck.  If you really want to kick up the yummy, serve it ala mode with a nice vanilla ice cream or frozen yogurt.
Recipe: Southern Banana Pudding
Summary: Southern Banana Pudding just might be the ultimate comfort dessert food. Simple, silky, and made from scratch.
Ingredients
3 ½ tablespoons all-purpose flour
1 1/3 cups sugar
Dash of salt
3 large eggs, separated
3 cups milk
1 teaspoon vanilla extract
1 (12 ounce) package vanilla wafers
6 medium bananas
6 tablespoons sugar
1 teaspoon vanilla extract
Instructions
Combine first 3 ingredients in a heavy saucepan. Beat egg yolks; combine egg yolks and milk, stirring well. Stir into dry ingredients; cook over medium heat, stirring constantly, until smooth and thickened. Remove from heat; stir in 1 teaspoon vanilla.
Layer one-third of wafers in a 3-quart baking dish. Slice 2 bananas, and layer over wafers. Pour one-third of custard over bananas. Repeat layers twice.
Beat egg whites at high speed with an electric mixer until foamy. Gradually add ¼ cup plus 2 tablespoons sugar, 1 tablespoon at a time, beating until stiff peaks form. Add 1 teaspoon vanilla, and beat until blended.
Spread meringue over custard, sealing to edge of dish. Bake at 325°F for 25 to 30 minutes or until golden.
Preparation time: 15 minute(s)
Cooking time: 25 minute(s)
Number of servings (yield): 8
Culinary tradition: USA (Southern)
Rating 5 stars:  ★★★★★ 3 review(s)
Copyright © The Hungry Wife.