5 Oct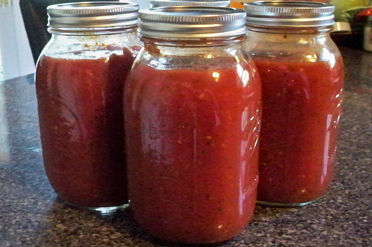 I used to think that I wasn't capable and it wasn't worth my time to make homemade Tomato Sauce, but I couldn't have been more wrong.  There is something extremely gratifying in making your own sauce, and I've come up with a recipe that is pretty simple, perfect for first time Tomato Sauce makers.  Using canned crushed tomatoes and a jar of ready-to-use peeled and minced garlic, makes this recipe a snap to make.  Due to the 5 hour simmer time, I decided to call this Weekend Tomato Sauce, because you can make it on a weekend when you have some free time.

In our household we don't eat a ton of Tomato Sauce, but I always like to keep some on hand, it is great for night when you don't have a lot of time to cook, just boil up some pasta add the sauce and your done.  Another thing that I really love about this Weekend Tomato Sauce is that it makes so much (25 cups!), which gives me a chance to use my canning skills.  I love being able to can a bunch of sauce and know that we won't need anymore for a long time.
Weekend Tomato Sauce goes great with pasta, meatballs, or use it with your favorite homemade pizza recipe.  To get every bit of goodness from cans of tomato and tomato paste, rinse them with water and add that liquid to your sauce.
Weekend Tomato Sauce Recipe
¼ cup Extra-Virgin olive oil
1 package (about 1.5 pounds) boneless country spare ribs
6 links hot Italian pork sausage
4 cups chopped sweet onions
8 tablespoons (20 cloves) minced garlic
2 cans (6 ounces each) tomato paste
4 cups water
6 cans (28 ounces each) crushed tomatoes
4 tablespoons dried basil
1 tablespoon crushed red pepper (or to taste)
salt and pepper to taste
You'll need a large 16 quart stockpot.
Heat olive oil in large braising pan on medium-high; add ribs and sausage.  Cook, turning, 2-5 minutes, until meats are browned on all sides.  Transfer meats to stockpot; set aside.
Reduce heat to low.  Add onions and garlic to braising pan; cook, stirring, 10 minutes, until veggies are translucent.  Raise heat to medium; add tomato paste.  Cook, stirring, 3-4 minutes.  Add water, stirring to loosen browned bits on bottom of pan.  Bring to simmer.
Transfer tomato paste/water mixture to stockpot.  Stir in canned tomatoes, basil, and red pepper.  Bring to simmer on medium.  Reduce heat to low.  Cook, stirring occasionally, 5 hours.
Carefully transfer meats to clean serving platter; cut meats into manageable pieces.  Transfer sauce to serving bowl.
Makes 25 cups