19 Sep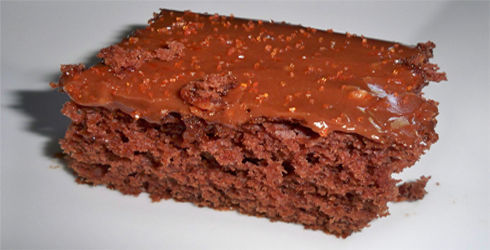 I was given the task of supplying a dessert for my husbands company picnic this year.  Last year I brought a strawberry pie, which was excellent and went over really well, but the picnic also took place in June during strawberry season.  Since they moved the picnic to September this year, I decided to come up with something a little different.  Root Beer Float Cake was just what I was looking for.

This is a super rich cake, and a little goes a long way.  With the Root Beer replacing the water in this cake mix recipe, it adds a flavor boost as well as a little extra rise.  You will notice that the cake is very fluffy and airy, with a nice rich flavor that is complimented by the Root Beer Frosting.
I loved the idea of having a chocolate root beer flavored cake, but was a little hesitant about whether it would be too root beery.  The opposite actually happened, I found myself wanting more root beer flavor, so I swapped out the vanilla extract in the frosting for root beer extract.  This helps add in just enough extra flavor that was missing.  I also think next time I will use a stronger root beer.  I used A&W Root Beer for the cake and frosting, which is not a very strong tasting root beer, and think something with more bite would provide that flavor I was looking for.
Root Beer Float Cake Recipe
1 (18.25-ounce) package German chocolate cake mix
1 ¼ cups root beer (no diet)
¼ cup vegetable oil
2 large eggs
Root Beer Frosting (recipe to follow)
Combine first 4 ingredients in a mixing bowl.  Beat at low speed with an electric mixer until dry ingredients are moistened.  Pour batter into a greased and floured 13×9-inch pan.
Bake at 350° for 30 minutes or until a wooden pick inserted in center comes out clean.  Cool in pan 10 minutes.  Spread Root Beer Frosting evenly over warm cake.
Makes 12 servings
Nutritional Information:
Per serving: 479 calories, 19.2 g fat, 4.5 g protein, 74.3 g carbohydrates, 67 mg cholesterol, 377 mg sodium, 44 mg calcium.
Root Beer Frosting Recipe
½ cup butter or margarine
7 tablespoons root beer (not diet)
3 tablespoons unsweetened cocoa
1 (16-ounce) package powdered sugar
1 teaspoon root beer extract
Bring first 3 ingredients to a boil in a large saucepan over medium heat, stirring until butter melts.  Remove from heat; whisk in powdered sugar and root beer extract until smooth.
Makes 2 cups
Nutritional Information:
Per tablespoon:  83 calories, 2.9 g fat, 14.8 g carbohydrates, 8 mg cholesterol, 21 mg sodium, 2 mg calcium.