15 Jun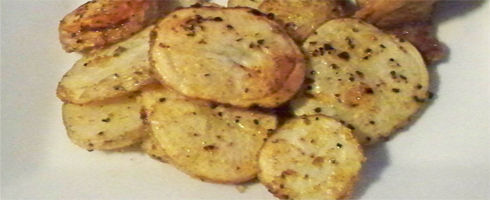 Oven Roasted Potatoes are a great addition to any meal.  They are one of the more healthy variations of potatoes yet they taste crunchy and full of flavor.  One bite of these and you won't want to stop eating them.
When cutting the potatoes, I like to cut them in 1/4″ thick slices.  You may also opt to cut them into squares if that's your preference.  Oven Roasted Potatoes are great served with grilled steak, chicken, or even with breakfast or brunch.  Choose your favorite seasonings to coat the Oven Roasted Potatoes, such as Italian seasonings, rosemary, or thyme.  I personally prefer Original Mrs. Dash seasoning, or for a kick add some crushed red pepper.  You can also cut potatoes into wedges and  season baking wedges with Italian seasoning, olive oil and garlic, and roast for a simple, hearty side dish.
There are many variations to Oven Roasted Potatoes, so personalize them and make them your own.  Basically, you use the olive oil and butter to coat the potatoes and the rest is up to you.
With a cook time of a 1/2 hour this dish is nice to have in your arsenal.  Again, it compliments just about anything!  Give these Oven Roasted Potatoes a try and you won't be disappointed.
Recipe: Oven Roasted Potatoes
Summary: With a cook time of a 1/2 hour this dish is nice to have in your arsenal.
Ingredients
3 cups of sliced or cubed potatoes
3 tablespoons of olive oil
1 tablespoon of melted butter
salt
pepper
Your favorite seasoning (I use Mrs. Dash Original) to taste
Instructions
Preheat oven to 450°.
Scrub the potatoes very well, but do not peel.
Slice potatoes about a ¼-inch thick, not too thick, not too thin. Place in a bowl.
Add olive oil, butter, salt, pepper and your seasoning of choice. Mix well.
Lay out potatoes on a lightly greased cookie sheet.
Place in oven, and cook for about 30 minutes or until done.
Variations
Try various types of seasonings or slice the potatoes differently to mix it up a little!
Preparation time: 5 minute(s)
Cooking time: 30 minute(s)
Diet type: Vegetarian
Number of servings (yield): 4
Culinary tradition: USA (Traditional)
Rating 4 stars:  ★★★★☆ 1 review(s)
Copyright © The Hungry Wife.