17 May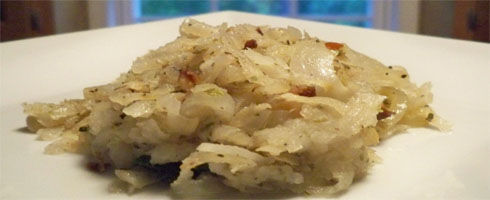 Huge turnips came in this weeks CSA delivery.  I was pretty excited about this root vegetable, but also a little apprehensive about what to do with them.  I had to dig deep into my recipe collection, but I found some nice ways to prepare turnips and gave one of them a try.
Growing up in upstate New York, where there is a relatively short growing season, many of the local organic farmers grow root vegetables that sweeten in the ground as the air turns frosty.  This typically winter produce, is best featured by roasting the parsnips, carrots, beets, turnips, and rutabagas to draw out their natural sweetness and flavor.
If you would like to make this a more substantial vegetable side dish, try cooking up some greens and serving the roasted turnips on top of them.  The Hungry Wife suggests using hardy greens that last late into the growing season, such as Swiss or ruby chard, collards, kale, turnip greens, or mustard greens.  To prepare them, you can sauté some minced garlic in olive oil, and add some crushed red pepper as desired, and your choice of greens.  Cook, stirring them often, for about 15 minutes, until they are tender.

Oven Roasted Turnips Recipe
4 cups peeled turnip match sticks*
2 cups quartered and thinly sliced onions
4 tablespoons olive oil
1 tablespoon minced fresh oregano (1 ½ to 2 teaspoons dried)
¼ teaspoon salt
1/8 teaspoon ground black pepper
*Julienne the turnips into 2 x ¼ inch pieces
Preheat the oven to 350°.  Oil a baking sheet.  Place the turnips and onions in a bowl and toss them with 4 tablespoons of the olive oil and the oregano.  Spread evenly on the baking sheet and sprinkle with salt and pepper.
Bake for 20 to 30 minutes, or until the ends of the turnip match sticks are golden brown and crisp.  Remove from the oven and serve.