5 Jun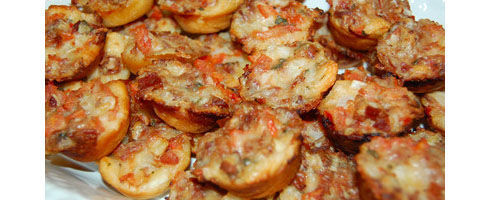 Bacon and Tomato Cups are always a hit at family events!  This is a delicious dish to pass or appetizer, the recipe which I got from my mother-in-law.  Every Christmas she makes these, and they are absolutely everyone's favorite.  My mother-in-law has seemed to perfect the Bacon and Tomato Cups recipe over the many years she's been making it, and even with the high demand, they never seem to run out!  She always has some hiding in the fridge or freezer, ready to be heated up and enjoyed on Christmas morning, too!
This recipe is to fulfill a Facebook fan's request named Amelia.  Amelia, hopefully this is something you were looking for!
Here at The Hungry Wife, we feel Bacon and Tomato cups are a perfect finger food for events or parties, and we're sure you will enjoy this delicious twist on this recipe.  We've cut down the calories by slashing the mayo in recipe.  Also we've provided a couple helpful hints to hopefully make this a tad easier to make!
Bacon and Tomato Cups Recipe
8 slices bacon
1 tomato, chopped
1/2 tablespoon minced onion
3 ounces shredded  mozzarella cheese (or your favorite type of cheese, Swiss, Provolone ect.)
1/4 cup mayonnaise
1 teaspoon dried basil
1 (16 ounce) can refrigerated buttermilk biscuit dough (buy the flakey type, they will be easier to separate in half)
Directions:
Preheat oven to 375 degrees F (190 degrees C). Lightly grease a mini muffin pan.
In a skillet over medium heat, cook bacon until evenly brown (or cook bacon in microwave). Drain on paper towels. Crumble bacon into a medium mixing bowl, and mix with tomato, minced onion (soften with a bit of water first), cheese, mayonnaise (just enough to moisten the mix) and basil.
Separate biscuits into halves horizontally. Place each half into cups of the prepared mini muffin pan. Fill each biscuit half with the bacon mixture.
Bake for 10 to 12 minutes in the preheated oven , or until golden brown.
Nutritional Information
Per Serving: 180 calories, 12 g fat, 12 mg cholesterol