21 Oct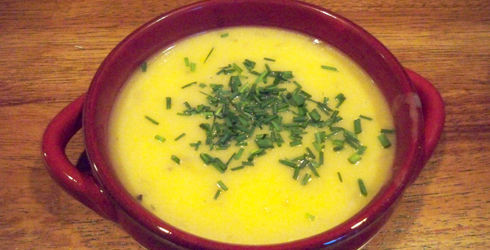 I can remember the exact moment when my love affair with Cheese and Beer Soup began.  I was 16 years old when I found a fantastic little German restaurant, it was in an old plaza with no sign on the outside, and it was fantastic.  Unsure of what to order, the waitress suggested to start with the Cheese and Beer Soup, and ever since that moment I've been hooked.  I've spent years trying to find another soup that even came close to that one, and was unsuccessful until I found this recipe.

It's the simplicity of this recipe that makes it super special.  The combination of a good lager beer and a nice sharp cheddar cheese is what makes this soup out of this world.  Cheese and Beer Soup is creamy and flavorful, and hearty enough to make the whole meal.  I used Yuengling lager for the beer, but think next time I will try something a little stronger, I love the flavor beer adds and found myself wanting just a bit more.  If you like, you can add 1/2 pound of kielbasa sausage, chopped into small pieces.  Simply cook the sausage first for a couple minutes, then add in the onions.  You'll also want to increase the flour to a 1/2 cup if you choose to add the sausage into the recipe.
Recipe: Cheese and Beer Soup
Summary: Summary: It's the simplicity of this recipe that makes it super special.
Ingredients
3 tablespoons olive oil
2 cups chopped yellow onions
1 teaspoon salt
½ teaspoon freshly ground black pepper
2 bay leaves
3 tablespoons minced garlic
¼ cup all-purpose flour
6 cups chicken stock or broth
2 cups lager beer, preferably amber
1 teaspoon chopped fresh thyme or ½ teaspoon dried thyme
3 cups grated sharp Cheddar cheese (12 ounces or ¾ pound)
2 tablespoons minced fresh chives, for garnish
Instructions
Heat the olive oil in a large heavy soup pot over medium-high heat. Add the onions, salt, black pepper, and bay leaves and cook, stirring, until the onions are slightly caramelized, 12 to 15 minutes.
Add the garlic and cook, stirring until fragrant, about 1 minute.
Sprinkle the flour over the onions and cook, stirring constantly, for 2 minutes.
Gradually whisk in the stock and the beer. Add the thyme and bring to a boil.
Reduce the heat to medium-low and simmer uncovered, stirring occasionally, for 1 hour.
Remove bay leaves.  Add the cheese, a little at a time, stirring until nearly melted after each addition.  Remove from the heat, taste, and adjust seasoning if necessary.

Ladle the soup into bowls and garnish with the minced fresh chives.
Quick notes
From a reader: Newcastle Brown Ale and Guinness Stout are both excellent for a Cheddar Soup.
Variations
A flavorful beer choice will help make for a flavorful soup!
Preparation time: 15 minute(s)
Cooking time: 2 hour(s)
Diet type: Vegetarian
Number of servings (yield): 8
Culinary tradition: German
Rating 5 stars:  ★★★★★ 1 review(s)
Copyright © The Hungry Wife.