12 May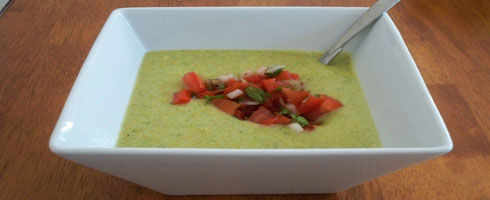 Who doesn't love a good cup of soup?  Everyone has a favorite kind, and at only 123 calories per serving, you just might find this Creamy Broccoli and Carrot Soup to be you new favorite.  The crunchy pepper relish provides an interesting counterpoint to the creamy broccoli and carrot soup.  The relish serves to compliment the curry powder and yogurt in the soup.  If you like, try the soup both ways, with and without the relish, I think you'll find that the relish adds something really special and completes the Creamy Broccoli and Carrot Soup.
I used canned cream of mushroom soup as a shortcut in this recipe.  Sometimes, for variety, I use cream of celery soup instead.  No matter which type you use, look for brands low in fat and sodium.  Don't let this Creamy Broccoli and Carrot Soup fool you, it  is simple to make and tastes really good.  All the ingredients are balanced very well, nothing is overpowering.  One last tip, if you have a smaller food processor like I do, puree the ingredients in batches and then mix together well.

Creamy Broccoli and Carrot Soup with Pepper Relish Recipe
1 medium tomato, diced
½ cup finely chopped roasted sweet red peppers
¼ cup finely chopped red onions
¼ cup minced fresh basil
¼ teaspoon freshly ground black pepper
1 small head broccoli, separated into florets
4 ounces carrots, cut into 1" pieces
1 can (10 ¾ ounces) condensed low-fat cream of mushroom soup
1 cup low-sodium vegetable stock
¼ teaspoon curry powder
½ cup nonfat yogurt
In a small bowl, combine the tomatoes, red peppers, onions, basil and black pepper; set aside.  Steam the broccoli and carrots for about 10 minutes, or until tender.  Transfer to a food processor.  Add the cream of mushroom soup, veggie stock, and curry powder.  Process until smooth.
Transfer to a 2 quart saucepan.  Place over medium heat and stir constantly until bubbly.  Remove from the heat and whisk in the yogurt.  Serve topped with the pepper relish.
Makes 4 servings.
Nutritional Information:
Per serving: 123 calories, 2.5 g fat, 4.6 g dietary fiber, 12 mg cholesterol, 418 mg sodium