15 Dec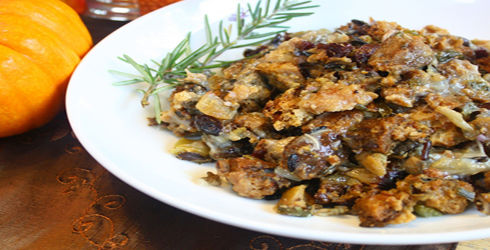 Stuffings are a delicious side dish, often found on tables around the holidays with turkey, but is also a perfect accompaniment to pork chops and chicken.  It seems like there are endless possibilities to stuffing recipes, but my Crock Pot Stuffing Recipe is one that I found is a hit with all that try it.  When you are going to be busy in the kitchen preparing your holiday meal, it is great to be able to make Crock Pot Stuffing and not have to worry about it until you are ready to serve.

Simple and traditional, Crock Pot Stuffing is sure to be a hit with everyone.  If you like to add other ingredients to your stuffing, like dried cranberries, apples or nuts, all you do is mix it in right before you place in the Crock Pot.  I'll give you a little hint, to save time on the preparation of the stuffing do all your chopping the night before. that way when you wake up to get your Thanksgiving meal or holiday meal started, you can get right to the sauteing of the veggies.
Recipe: Crock Pot Stuffing
Summary: Crock Pot Stuffing is a great way to make this traditional dish. Super moist and flavorful, sure to be a family favorite at the table.
Ingredients
1 cup butter
2 cups chopped onion
2 cups chopped celery
¼ cup chopped fresh parsley
12 ounces sliced mushrooms (optional)
12 cups dry bread crumbs
1 teaspoon poultry seasoning
1 ½ teaspoons dried sage
1 teaspoon dried thyme
½ teaspoon dried marjoram
1 ½ teaspoons salt
½ teaspoon ground black pepper
4 ½ cups chicken broth, or as needed
2 eggs, beaten
Instructions
Melt butter in a skillet over medium heat. Cook onion, celery, mushrooms (if using), and parsley in butter, stirring frequently.
Place bread crumbs in a very large mixing bowl. Spoon cooked vegetables over the bread crumbs. Season poultry seasoning, sage, thyme, marjoram, and salt and pepper. Pour in enough broth to moisten, and mix in eggs. Spray slow cooker with a non-stick cooking spray. Transfer mixture to slow cooker, and cover.
Cook on HIGH for 45 minutes, then reduce heat to LOW, and cook for 6 to 8 hours.
Preparation time: 15 minute(s)
Cooking time: 8 hour(s)
Number of servings (yield): 8
Culinary tradition: USA (Traditional)
Rating 5 stars:  ★★★★★ 1 review(s)
Copyright © The Hungry Wife.