6 Jan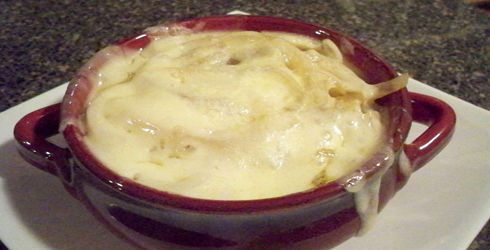 French Onion Soup is one of those classic dishes that everyone likes to start off their meals with.  It is simple and delicious, a wonderful appetizer or great as the main dish served with salad or a sandwich.  There are a lot of recipes out there for French Onion Soup, and some of them can get pretty complicated.  What sets this recipe apart from the others is the simplicity of it, yet it's still pack with that awesome flavor.

This recipe makes just enough for 4 appetizer size bowls of soup.  If you use larger bowls to serve this as a main dish, you may come up a serving short.  I often like to make French Onion Soup for a main meal, using my large soup bowls, and I end up with 3 servings.  When it comes to the cheese, you can pile on as much as you like.  I like using slices, a couple per bowl or enough to cover the top of the soup.  If you use shredded Swiss cheese, you may end up using less to cover your soup and it will melt a little faster too.
French Onion Soup Recipe
3 cups thinly sliced onions (about 3 medium)
2 tablespoons butter
2 (14.5 ounce) cans condensed beef broth
1 cup water
½ cup dry red wine
1 teaspoon Worcestershire sauce
2 slices of French bread, cut in half and toasted
Swiss cheese, slices or shredded
Salt and pepper, to taste
In a covered large saucepan/pot, cook onions in butter over low heat for about 30 minutes (or until onions are tender and starting to turn yellow), stirring occasionally.
Add beef broth, water, wine, and Worcestershire sauce to onions; heat to boiling.  Reduce heat; cover and simmer about 30 minutes.
Place ½ slice toasted bread in each of 4 soup bowls; pour hot soup over bread and top with Swiss cheese.  Place bowls on a cookie sheet and place under broiler oven until cheese is golden around the edges.
Makes 4 servings