6 Jul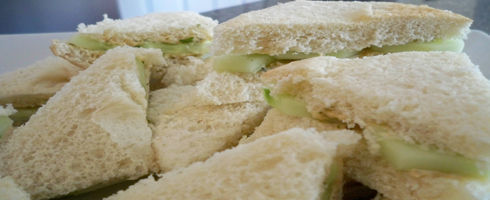 Our home garden is overflowing with cucumbers, so I have been finding new ways to use the surplus of them up.  Herb Garden Cucumber Sandwiches remind me of the finger foods served at tea parties.  They are delicate and make a great snack when relaxing by the pool with friends, bridal and baby showers, or afternoon tea.  If you make the herb spread for the sandwiches ahead of time and keep some in the fridge, this snack can be made in a hurry when people pop in.

At first glace, the Herb Garden spread seems to have way to many herbs in it.  But they all work well together, and elevate the mayonnaise spread to a higher level with many amazing dimensions.  The Garden Sandwiches are simple in their construction, but complex at the same time.  Very tasty and just enough food to keep you going, but not too much to make you feel stuffed.  The cool Herb Garden Cucumber Sandwiches are a must to try out.
Herb Garden Cucumber Sandwiches Recipe
Spread:
1 cup mayonnaise
1 tablespoon cider vinegar
¼ teaspoon salt
¼ teaspoon paprika
1 tablespoon chopped fresh parsley or 1 teaspoon dried parsley
1 tablespoon chopped fresh oregano or 1 teaspoon dried oregano
1 tablespoon chopped fresh thyme or 1 teaspoon dried thyme
1 tablespoon chopped fresh basil or 1 teaspoon dried basil
1 tablespoon chopped fresh dill of 1 teaspoon of dried dill weed
1 bay leaf, crushed
1 tablespoon chopped fresh chives or 1 teaspoon dried chives
1 tablespoon minced onion
1/8 teaspoon garlic salt
½ teaspoon Worcestershire sauce
1/8 teaspoon curry powder
1-2 loaves sliced white sandwich bread
3-4 medium cucumbers, peeled and sliced
Fresh dill or parsley for garnish
Combine spread ingredients, mixing well; cover and refrigerate overnight.  Cut crust off of bread slices, spread mixture over each slice of bread and top with cucumber slices and bread to make a sandwich.  Cut the sandwich into triangles.  Garnish with fresh dill or parsley.
Makes 40-50 sandwiches