24 Apr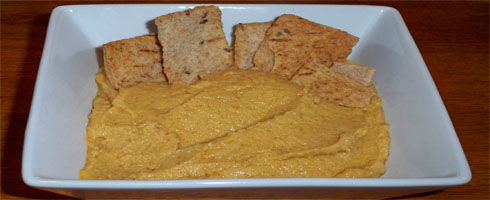 Many cuisine-related sources carry forward a folklore which describes hummus as one of the oldest known prepared foods with a long history in the Middle East. Its historical origins are not known for sure, but what I know, is that I love hummus. I love hummus in all forms, and want to share my love of hummus with you. Traditional hummus is made from cooked, mashed chickpeas, blended with tahini, olive oil, lemon juice, salt and garlic.
Not only does hummus taste terrific, but its good for you too.  Hummus is high in iron and vitamin C, and also has significant amounts of folate and vitamin B6. The chickpeas make it a good source of protein and dietary fiber; the tahini consists mostly of sesame seeds, which are an excellent source of the amino acid methionine, complementing the proteins in the chickpeas. Depending on the recipe, hummus carries varying amounts of monounsaturated fat. Hummus is useful in vegetarian and vegan diets and like other combinations of grains and pulses, when eaten with bread it serves as a complete protein.
The recipe that follows is a little different from the traditional hummus recipes, but is equally as delicious.  If you can find tahini, it is preferred over using the sesame seed oil, but incase you have a hard time finding tahini, there is a substitute.  Also, make sure you buy light olive oil.  I made this using extra virgin olive oil, and it was potent.  Still tasted good, but the olive oil was a little too strong.  Next time I will definitely use a lighter version.  There are many variations of hummus, and I plan to share with you as many as I possibly can.  For now, if you are looking for a quick, nice tasting hummus to make for a party or when company comes over, look no further.
Hummus Recipe
1 (16-oz) can garbanzo beans (chickpeas)
3 cloves garlic, peeled and rough chopped
2 teaspoons honey
1 teaspoon cayenne pepper
½ teaspoon salt
½ teaspoon tahini or sesame seed oil
½-3/4 cup light olive oil
bag fresh pita or flat bread
½ teaspoon fresh chopped parsley (optional)
Place beans, garlic, honey, cayenne pepper, salt and tahini (or sesame seed oil) in a food processor or blender.  Add half of the olive oil.  Mix until roughly blended.  Slowly add additional olive oil, while running food processor, until smooth, creamy consistency.  Place in serving dish and garnish with parsley.  Cut bread into bite size pieces for dipping.