1 Nov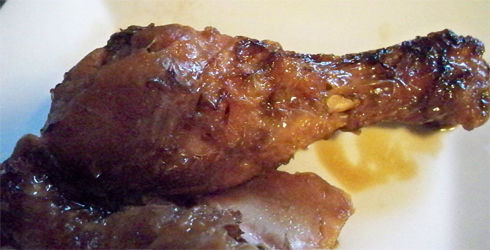 Last night I was staring in my refrigerator, looking for something to make for dinner.  It was the end of the week, the day before grocery day, and the options were limited.  I had thawed out some chicken pieces earlier, now I just needed to figure out what to do with them.  Flipping through one of my trusty cookbooks, I found the recipe for Oriental Chicken Wings.  I had all the required ingredients (chicken pieces instead of wings, but close enough), and even though it is cooked in a slow cooker, you can make it in two hours.  Perfect.

Oriental Chichen Wings is a super flavorful dish, and if your like me and have to watch your cholesterol, this is a great way to be able to eat chicken wings without using the deep fryer.  You can make this as an appetizer or as a main dish like I did.  Serve with rice or noodles, with a side of broccoli or any variety of stir-fry vegetables.  When supplies are running low in your fridge, it's always a great feeling when you can still pull off a delicious dinner.
Oriental Chicken Wings Recipe
32 pieces chicken wing drums and flats
1 cup chopped red onion
1 cup soy sauce
¾ cup light brown sugar
¼ cup dry cooking sherry
2 tablespoons chopped fresh ginger
2 cloves garlic, minced
Chopped chives
Broil chicken wings, about 5 minutes per side, this adds the nice crisp to the wings.  Transfer chicken to slow cooker.
Stir together onion, soy sauce, brown sugar, sherry, ginger, and garlic in large bowl.  Add to slow cooker, stir to combine.  Cover and cook on Low 5 to 6 hours or on High 2 to 3 hours.  Remove from sauce, sprinkle with chives.
Serve these wings with noodles or rice and vegetables for a great main dish offering.  You can also make these with 6-8 chicken legs or 2 chicken quarters for a main dish dinner.