24 Sep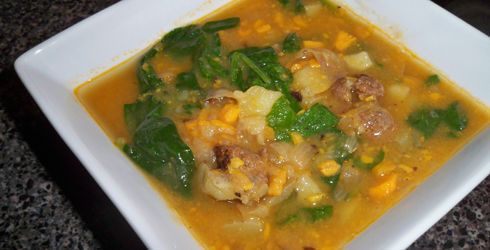 It is finally fall, even though it doesn't quite fell like it down here in South Carolina.  With it still reaching 100 degrees during the day down here, hot soup is generally not on the menu.  But I just can't wait anymore, I love soup and I'm gonna make it.  Soup season is officially on and what way to ease ourselves into it but with something hovering in the delicious middle-ground between broth and stew.

Sweet potato and Sausage Soup is the best of both worlds, and it's really easy to make.  The middle ground between soup and stew is important, mind you, if you are the kind of person who likes your soups hit up with an immersion blender right before serving and your significant other likes them chunkier.  Sweet Potato and sausage soup is exactly the kind of recipe you can choose to make late in the afternoon and still eat for dinner.  It's hearty enough to count as a one-pot meal, and instead of relying on an enormous list of spices for flavor, it coaxes them out of the sausage instead.  I am totally impressed with this soups efficiency, and think you will be too.
Sweet Potato and Sausage Soup Recipe
Note: This hearty soup gets rich flavor from the sausage, seasond with garlic, paprika, and other spices.
3 tablespoons extra-virgin olive oil, divided
1 10- to 11-ounce fully cooked chorizo sausage, cut crosswise into 1/4-inch-thick slices
2 medium onions, chopped
2 large garlic cloves, minced
2 pounds red-skinned sweet potatoes (yams; about 2 large), peeled, quartered lengthwise, cut crosswise into 1/4-inch-thick slices
1 pound white-skinned potatoes, peeled, halved lengthwise, cut crosswise into 1/4-inch-thick slices
6 cups low-salt chicken broth
1 9-ounce bag fresh spinach
Heat 2 tablespoons oil in heavy large pot over medium-high heat. Add sausage; cook until brown, stirring often, about 8 minutes. Transfer sausage to paper towels to drain. (I poured off some of the oil in the pot at this point, but the original recipe doesn't think this is needed.) Add onions and garlic to pot and cook until translucent, stirring often, about 5 minutes. Add all potatoes and cook until beginning to soften, stirring often, about 12 minutes. Add broth; bring to boil, scraping up browned bits. Reduce heat to medium-low, cover, and simmer until potatoes are soft, stirring occasionally, about 20 minutes. Using potato masher, mash some of potatoes in pot. Add browned sausage to soup. Stir in spinach and simmer just until wilted, about 5 minutes. Stir in remaining 1 tablespoon oil. Season with salt and pepper. Divide among bowls and serve.
Other options to consider: Kielbasa instead of chorizo, adding a can or two of drained white beans or using more spinach. I love spinach wilted in soups and could have used even more.
Makes 8 servings