15 Mar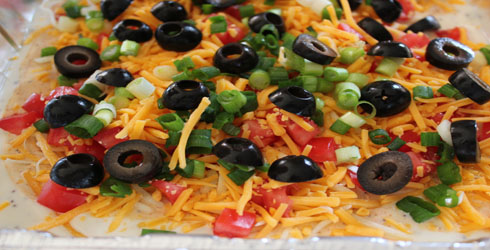 Taco Dip is a super delicious and simple recipe, that is a throwback from my childhood.  When I was growing up, it seemed like nearly every get-together we had, be it birthday party or clam bake, my mother would whip up Taco Dip.  I remember salivating watching her make the Taco Dip, in anticipation of being the first one to grab myself some tortilla chips and dig in to the yummy layers.  I can't believe it took me so long to make this myself, it's just one of those recipes that it seemed like only mom could make.

Taco Dip is really simple to make, especially if you by your cheese already shredded.  This dip is made in layers that should be eaten together to get the delicious full effect.  I like to make Taco Dip on a round serving platter with low sides, to make dipping easy.
The first layer of the dip is a mixture of mayonnaise and a salad dressing, which might sound strange, especially in a taco dip, but it works really well and is a key part of the recipe.  If you can find Pfeiffer Sweet and Sour salad dressing, that is the best to use in this recipe.  I have a hard time finding that in any grocery store around me, so I have had to compromise by using a poppy seed dressing.  Just make sure it is not a creamy dressing, you don't need to add a mayonnaise based salad dressing to more mayonnaise.
When adding the second layer, you want to try and spread the sour cream/taco seasoning around as best you can, without totally stirring it into the first layer.  After that its super simple, just layer the rest of the ingredients in order.  I buy my black olives whole and slice them myself.  This takes a little longer, but sometimes I feel like the pre-sliced olives just don't taste/look so great, to me it is worth the extra effort to slice myself.
You can try experimenting with adding on some other topping, like jalapenos, if you like.  Have fun, that is what Taco Dip is all about.
Recipe: Taco Dip Recipe
Summary: Taco Dip is a perfect dip for parties that everyone will love. Full of flavor and super easy to put together.
Ingredients
1 bottle of Spring Garden, Poppy seed, or Sweet and Sour dressing (I use a poppy seed, non-creamy)
1 small jar mayonnaise
1 cup sour cream
2 tablespoons taco seasoning
½ pound Monterey Pepper Jack cheese, grated
2 or 3 tomatoes, finely chopped
½ pound sharp Cheddar cheese, grated
4 scallions, chopped
1 can ripe olives, sliced
Instructions
Mix together the dressing and mayonnaise, and spread on a round dish.
Next mix together the sour cream and taco seasoning, spread carefully on top of the dressing/mayonnaise mixture, making 2 layers.
Layer the rest of the ingredients in order listed.
Serve with tortilla chips.
Preparation time: 10 minute(s)
Cooking time:
Number of servings (yield): 12
Rating 5 stars:  ★★★★★2 review(s)
Copyright © The Hungry Wife.