7 Jul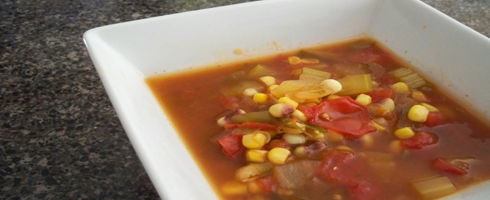 Perusing some vegetable soup recipes on weight loss program menus inspired The Hungry Wife to develop one of our own.  The Zero refers to the fat content and the calorie count is also fairly negligible.

Prepare the vegetables one at a time and add each to the pot of simmering broth as you go.  (We like the nonfat broths in asceptically packaged quart boxes by Imagine Foods and Pacific.)  Use the list of "zero" vegetables found after the recipe to make the soup a little differently each time.  Just replace or add to the vegetables called for here.
Zero Soup Recipe
4 cups nonfat vegetable broth, mock chicken broth, or stock
2 cups diced onions
1 cup diced celery
1 cup peeled and diced carrots
1 cup cut green beans
1 ½ cups finely chopped green cabbage
1 cup diced red bell peppers
4 garlic cloves, minced or pressed
3 cups diced tomatoes in juice (28-ounce can)
2 tablespoons soy sauce
1 tablespoon cider vinegar
1 teaspoon dried basil
1 teaspoon dried oregano
1 teaspoon dried dill
½ teaspoon dried thyme
½ teaspoon ground black pepper
salt to taste
Heat the broth in a soup pot.  Add the first seven vegetables one at a time, trimming and chopping as you go.  Stir in the tomatoes, soy sauce, vinegar, basil, oregano, dill, thyme, and pepper.  Simmer for 15 or 20 minutes, until the vegetables are tender.  Add salt to taste.
Makes 4 to 6 servings
Nutritional Information
Per 12-ounce serving: 97 calories, 3.9 g protein, 0.7 g fat, 21.3 g carbohydrates, 0.1 g saturated fatty acids, 0 mg cholesterol, 548.8 mg sodium, 3.9 g total dietary fiber.
Variations
For Mexican Zero Soup, add zucchini and minced chiles and replace the herbs with cumin, coriander, and cilantro.  Use lime juice instead of vinegar.
For Hungarian Zero Soup, add mushrooms and replace the basil, oregano, and thyme with paprika, marjoram, and more dill.  Top with nonfat sour cream.
For Asian Zero Soup, replace the cabbage with bok choy and add straw mushrooms.  Replace herbs with grated fresh ginger root and minced scallions.  Top with mung bean sprouts.
"Zero" Vegetables
Artichoke hearts, Asparagus, Beets, Broccoli, Broccoli rabe, Brussels sprouts, Cabbage, Carrots, Cauliflower, Celery, Chard, Collards, Cucumbers, Eggplant, Endive, Escarole, Garlic, Green beans, Jicama, Kale, Leeks, Lettuce, Mushrooms, Okra, Onions, Peppers, Pumpkin, Scallions, Snow Peas, Spaghetti squash, Spinach, Summer squash, Tomatoes, Turnips, Water chestnuts, Watercress, Zucchini
Not "Zero" Vegetables
Corn, Parsnips, Peas, Potatoes, Winter squash, Yams
Moosewood Restaurant New Classics, Copyright 2001, Moosewood, Inc., Clarkson Potter, Publishers