10 Mar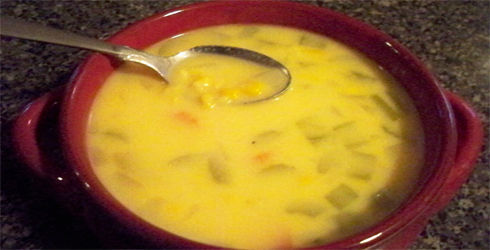 There is nothing I like better then eating homemade soups, stews, and chowders.  I love how the longer ingredients simmer the more the flavor develops, and you can get completely different tastes from similar ingredients depending on how they are combined.  Soups are multi-talented, they can be served nearly any time of the day.  They can be hearty and warm on those cool days, or they can be chilled and light when it's warm out.  Soups are simply fabulous!

Vegetable Chowder Recipe is the perfect spring soup.  Even though it is called a chowder, it is not as thick as you would think.  Using carrots, celery, potatoes, corn and onions you start making this chowder as you would a traditional vegetable soup.  Creating a cheesy cream sauce and adding it to the simmered veggies, makes for a delicious, slightly creamy vegetable chowder.
Sometimes soups and chowders can get a bit complicated when making.  On occasion I like to take my time and make those difficult recipes, but on the typical day I'm really looking for something that can be made with ease.  Vegetable Chowder is a simple recipe, and will take about an hour to make (from chopping to dinner table).  It is great for weeknights and can be served as the main dish or the starter.  Even better, vegetable chowder can be made a day ahead of time and reheated when ready to serve.
Vegetable Chowder Recipe
½ cup onion, chopped
1 clove garlic, minced
1 cup celery, sliced
¾ cup carrots, sliced
1 cup potatoes, peeled and cubed
3 ½ cups chicken broth
1 (14.25 ounce) can corn, drained
¼ cup butter or margarine
¼ cup all-purpose flour
2 cups milk
1 tablespoon prepared mustard
¼ teaspoon white pepper
1/8 teaspoon paprika
2 cups Cheddar cheese, shredded
2 tablespoons pimiento, diced (optional)
salt and pepper to taste
In a Dutch oven or soup pot, combine onion, garlic, celery, carrots, potatoes and chicken broth.  Bring to a boil, cover and remove from heat.  Simmer 15-20 minutes.  Stir in corn and remove from heat.
In a saucepan, melt butter over low heat.  Add flour and stir until smooth.  Cook 1 minute.  Gradually add milk. Cook over medium heat, stirring constantly, until thick and bubbly.  Stir in remaining ingredients.  Cook until cheese melts.  Gradually add cheese mixture to vegetables.  Cook over medium heat until chowder is thoroughly heated.
Makes 2 quarts and serves 6-8.  Best when made a day ahead.