3 Nov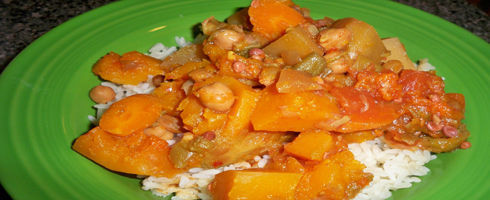 I love building up an excellent collection of vegetarian recipes.  Vegetarian Mediterranean Stew is something everyone will enjoy, even die-hard carnivores, wont miss the meat in this hearty meal.  Everyone should incorporate plenty of vegetables into their diet, and making one night a week meatless is a great way to get health benefits and try out new veggies.

Vegetarian Mediterranean Stew is reminiscent of Indian dishes, and contains some of my favorite veggies and spices.  I like to kick up the heat a bit in this dish and use a generous amount of crushed red pepper.  Be careful when you first make this dish to not use too much though.  It is easy to go heavy on the spice, and then regret it later.  So, start small and adjust accordingly.
One of the other wonderful things about Vegetarian Mediterranean Stew is that you play around with the main ingredients.  You can replace the potatoes with eggplant, or add in a couple cups of zucchini.  Try this recipe with your favorite veggies to find out your favorite combination.
Vegetarian Mediterranean Stew Recipe
1 medium butternut or acorn squash, peeled and cut into 1-inch cubes
2 cups potatoes, peeled and cut into 1-inch cubes
1 can (15 ½ ounces) chick-peas, rinsed and drained
1 package (10 ounces) frozen cut okra
1 can (8 ounces) tomato sauce
1 cup chopped onion
1 medium tomato, chopped
1 medium carrot, thinly sliced
½ cup reduced-sodium vegetable broth
½ cup raisins
2 cloves, garlic, minced
1 teaspoon ground cumin
1 teaspoon ground turmeric
¼ to 1 teaspoon crushed red pepper (amounts depends on how spicy you like it)
½ teaspoon ground cinnamon
½ teaspoon paprika
6 to 8 cups hot cooked couscous or rice
Combine all ingredients except couscous or rice in slow cooker, mix well.  Cover and cook on LOW 8 to 10 hours.  Serve over couscous. Garnish with parsley, if desired.
Makes 6 servings