27 May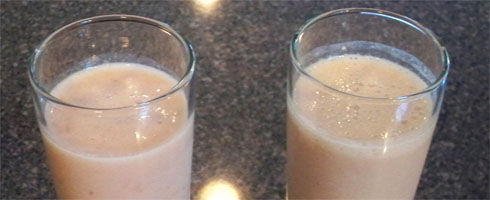 Smoothies are a quick and delicious way to give yourself a refreshing pick-me up at any time throughout the day.  They can be a simple duet of frozen fruit and soy milk or an elaborate blend of several fresh ripe fruits juice, milk, vanilla, and peanut butter.
Smoothie combinations are endless, and the basic directions are simple:  In the blender, whip up 1 to 2 cups of fruit, a cup of liquid, and maybe a teaspoon or two of a flavoring and/or sweetener.  Let the suggestions below inspire you, and your smoothies will be thick, frosty, and refreshing.  Refrigerate any extra and stir or re-blend if needed.
Fruits: fresh or frozen strawberries, peaches, plums, bananas, pears, blueberries, cherries, melons
Liquids: orange, apple, apricot, berry, or cherry juices; soy milk, dairy milk, buttermilk, yogurt, flavored yogurt; greet tea; tropical fruit "nectars" such as mango or papaya
Flavorings: pure vanilla or almond extract, chocolate syrup, cinnamon, nutmeg, peanut butter
Sweeteners: maple syrup, sugar, honey
You know you should eat breakfast.  But what if you can't face solid food so early in the day?  Try drinking a smoothie as your morning meal.  This smoothie is easy to make and easy to consume.  You can even take it along to work to sip on the commute or at your desk.

Banana Fruit Smoothie Recipe
2 cups nonfat vanilla yogurt
2 cups low-calorie cranberry juice
1 cup banana slices
1 cup coarsely chopped peaches
1 tablespoon honey
¼ teaspoon ground cinnamon
2 ice cubes
In a blender, combine the yogurt, juice, bananas, peaches, honey, cinnamon and ice cubes.  Blend on high speed until smooth and creamy.
Makes 4 servings
Nutritional Information
Per serving: 185 calories, 0.3 g fat, 1.5 g dietary fiber, 3 mg cholesterol, 76 mg sodium
Moosewood Restaurant New Classics, Copyright 2001, Moosewood, Inc., Clarkson Potter, Publishers