5 Jun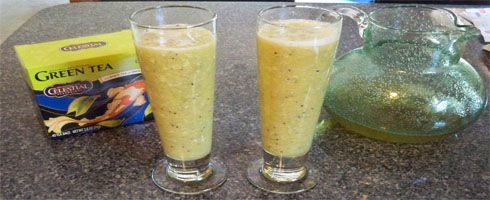 This Green Tea Smoothie is another favorite of ours on hot sunny days.  Fruit of any color is delicious in a smoothie made with green tea, but at The Hungry Wife we lean toward pale green honeydew, and sometimes we add kiwi, too.  Be sure to use a food processor when making smoothies with kiwi: Blenders are more likely to crush the bitter kiwi seeds for this Green Tea Smoothie.
In this Green Tea Smoothie, we obviously have green tea.  So, what is green tea, anyway, you ask?  Green tea leaves, picked in small batches by hand or large batches by machine, are withered slowly to remove water, and then dried, steamed, or pan-fried, after which they are lightly crushed by twisting or rolling to release their flavor-producing enzymes.  The shape of the leaves ranges from thin and crinkly to tight little balls to needle-like blades, and the color ranges from shades of jade to pale olive green.  The most superior green tea contains only leaves and buds, while lower grades use broken leaves and stems.
Green tea is best when steeped for less than 5 minutes in fresh spring water heated to just below the boiling point.  In Japan, the art of making a cup of green tea for guests has evolved into a formal ceremony held in special tea rooms and is studied with masters.
The Hungry Wife likes drinks that comfort – coffee and hot chocolate drinks during the winter months, frozen drinks and fruit smoothies (such as this Green Tea Smoothie) during the hot days of summer.  Try mixing it up using different times of fruits, and find you favorite combination.
Green Tea Smoothie Recipe
1 cup chilled green tea
1 banana, peeled and sliced
2 cups chopped honeydew melon
1 tablespoon honey or sugar
1 kiwi, peeled and sliced (optional)
Puree the ingredients in a blender or food processor until smooth.
Serves 1 or 2
Nutritional Information
Per 24-ounce serving: 276 calories, 2.6 g protein, 0.8 g fat, 72.2 g carbohydrates, 0.3 g saturated fatty acids, 0 mg cholesterol, 38.1 mg sodium, 4.4 g total dietary fiber
Moosewood Restaurant New Classics, Copyright 2001, Moosewood, Inc., Clarkson Potter, Publishers