5 Jan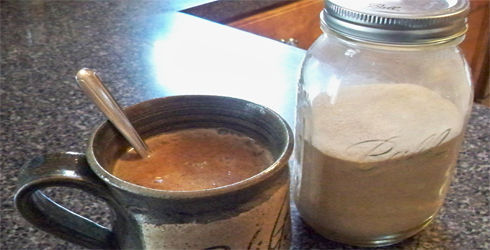 Spiced Tea is a nostalgic drink from my childhood.  My Grandmother would mix up large batches of this tea, and hand it out to family and friends.  When I was sick with a bad cold, a hot cup of Spiced Tea would comfort me, and sooth my sore throat.  I'm so excited to share this special treat with everyone, I hope you all enjoy it as much as I do.

This recipe makes a good amount of tea, and can be stored for a long time in a sealed container.  This is perfect for placing in decorative containers and giving out to friends and family for holidays, birthday's, or bridal/baby showers.  I think anyone would be appreciative to receive this sweet tea.
Although you may think Tang is hard to find, it took me no time at all.  It was sitting on the shelf right next to the lemonade mix and kool-aid.  For my Spiced Tea mix, I used Country Time Lemonade, and Lipton Powdered tea.  Any brand would work, just want to make sure it has the sugar already added, otherwise you'll end up with a sour Spiced Tea mix.
Spiced Tea is a little bit tart with a delicious sweetness.  The little bit of spices added are just the right amount, and really make flavors come together.
Spiced Tea Recipe
2 cups Tang (Orange beverage drink mix)
½ cup instant powdered tea, original (no special flavors)
½ cup instant lemonade mix
1 ½ teaspoons cinnamon
1 teaspoon ground cloves
Place all ingredients in a large bowl or container and mix well.  Store in a covered jar.  When ready to serve, add 2 to 3 teaspoons of mixture to each cup of boiling water.