6 Nov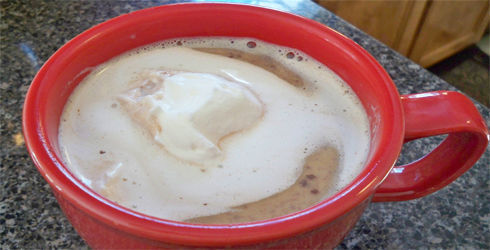 With temperatures dropping, there is nothing better than heading indoors and warming up with a mug of Triple Delicious Hot Chocolate.  Seriously, this is without a doubt the most amazing hot chocolate my husband and I have ever had.  It is everything a delicious hot chocolate should be, creamy, sweet, and of course, chocolaty.  Initially my husband wanted me to add in a little extra chocolate, but after some taste testing we decided against it.  Triple Delicious Hot chocolate, has more than enough chocolate just the way it is.

With the holiday's just around the corner, Triple Delicious Hot Chocolate is the perfect beverage to have ready to serve at parties.  You can surprise your family by having it ready on Christmas morning, or when they come inside from playing in the snow.
You can find 1 ounce bars of chocolate in the baking isle of your grocery store.  I used Baker's Chocolate, they are sold in packages of 6 or 8 one ounce bars, so you can make hot chocolate all winter long.  I would roughly chop the bars of chocolate before adding to the slow cooker.  This will help it melt more uniformly and mix better in with the liquid.  What makes this even wonderful beverage even better is serving it with homemade whipped cream, which is much easier then you could ever imagine.  Take about a half a cup of heavy cream and place it in a medium bowl.  Using an electric mixer, beat until it starts to thicken, then add sugar, teaspoon at a time, until it is sweet enough.  Continue to beat until the cream is fluffy.  Enjoy!
Triple Delicious Hot Chocolate Recipe
1/3 cup sugar
¼ cup unsweetened cocoa powder
¼ teaspoon salt
3 cups milk, divided
¾ teaspoon vanilla
1 cup heavy cream
1 square (1 ounce) bittersweet chocolate
1 square (1 ounce) white chocolate
¾ cup whipped cream
2 tablespoons mini chocolate chips or shaved bittersweet chocolate
Combine sugar, cocoa, salt and ½ cup milk in medium bowl.  Beat until smooth.  Pour into slow cooker.  Add remaining 2 ½ cups milk and vanilla.  Cover and cook on LOW 2 hours.
Add cream.  Cover and cook on LOW 10 minutes.  Stir in bittersweet and white chocolates until melted and combined.
Pour hot chocolate into 6 coffee cups.  Top each with 2 tablespoons whipped cream and 1 teaspoon chocolate chips.
Makes 6 servings