18 Apr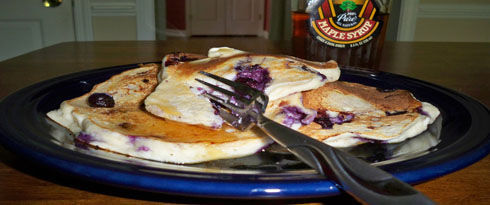 Good morning! Breakfast this morning was delicious, and is worthy enough to compete with the best. These Blueberry-Lemon Ricotta Pancakes are a good example of the boundless possibilities of pancakes. Serve them topped with your favorite syrup, additional fruit, or fresh whipped cream. These pancakes could even be offered for dessert – try them a la mode.
Because they contain ricotta cheese, use a good-quality nonstick pan or well-seasoned griddle or skillet with even heat distribution, so the delicate batter doesn't stick or burn.

Blueberry-Lemon Ricotta Pancakes Recipe
Dry Ingredients:
2/3 cup unbleached white flour
2 tablespoons sugar
½ teaspoon salt
1/8 teaspoon cream of tartar
pinch of ground cinnamon
Wet Ingredients:
6 egg whites
2 cups ricotta cheese
¼ teaspoon pure vanilla extract
2 teaspoons freshly grated lemon peel
2/3 cup fresh or frozen blueberries (be sure to thaw first if frozen)
In a mixing bowl, sift together the dry ingredients. In a separate bowl, beat the egg whites until fluffy. Thoroughly fold in the ricotta, vanilla, and lemon peel and then the fruit. Stir the dry ingredients into the wet ingredients just enough to combine.
Lightly oil a skillet or griddle and place on medium-high heat. Use about ¼ cup of batter for each pancake. The batter will be thick, so be sure to use a spatula to smooth out batter on the griddle. This will make the pancake not as thick and more round, much easier for cooking. Cook for 1 to 1 ½ minutes on the first side until bubbles appear on the top. Turn the pancakes and cook on the second side until golden brown, about 1 minute.
Serve hot.
Yields 4 servings
Nutritional Information:
Per 7.5 ounce serving: 287 calories, 21.1 g protein, 9.2 g fat, 29.1 g carbohydrates, 5.6 g saturated fatty acids, 34.9 cholesterol, 537.7 mg sodium, 1 g total dietary fiber
Moosewood Restaurant New Classics, Copyright 2001, Moosewood, Inc., Clarkson Potter, Publishers