9 Jun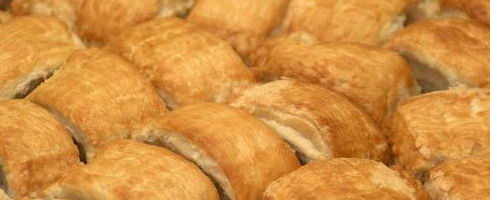 Recently, one of The Hungry Wife fans asked about recipe for Sausage Bread.  I instantly thought of this recipe that I have seen in one of my cookbooks.  Now, I have not personally tried this one out, but it sounds great and is on my list of things to make.
I have seen Sausage Bread made a couples ways before: As a loaf, where you roll out pizza dough and place the sausage mixture all down the middle, roll up the sides of the dough and seal it, then bake it; the other way I have seen Sausage Bread is to make it more like individual rolls, which is what I am about to show you.

This recipe is more of a Cajun Sausage Bread, using andouille sausage and other ingredients often used in cajun cooking.  If you prefer, you can substitute with Italian sausage, leave out the jalapenos and some of the other seasonings.  Personally, I am going to try it just the way it is, nice and spicy!
Cajun Sausage Bread Recipe
FOR THE FILLING:
1/4 teaspoon cayenne pepper
1 teaspoon paprika
1 teaspoon dried thyme
1 teaspoon salt, more to taste
1/2 teaspoon chili powder
1/4 teaspoon freshly ground black pepper
Pinch ground white pepper
4 bay leaves
2 tablespoons vegetable oil
1 pound Cajun andouille sausage, cut into 1/4-inch dice
1 small onion, finely chopped
1 stalk celery, finely chopped
1 small bell pepper, finely chopped
1 medium jalapeño, finely chopped
4 medium Roma (plum) tomatoes, cut into 1/2-inch dice
1/2 teaspoon Worcestershire sauce
2 tablespoons all-purpose flour
1/2 cup finely sliced scallions
3 dashes (or to taste) Louisiana hot sauce.
FOR ASSEMBLY:
3 7 1/2 -ounce packages (10 biscuits each) buttermilk bake-and-serve biscuits, or other biscuit dough as desired.
1. In a small bowl, combine cayenne pepper, paprika, thyme, 1 teaspoon salt, chili powder, black pepper, white pepper and bay leaves; set aside. In a skillet over medium heat, heat oil and add sausage. Sauté 1 minute, add spice mixture and cook until lightly browned, about 2 more minutes.
2. Add onion, celery, bell pepper and jalapeño. Sauté until softened, about 5 minutes. Add tomatoes and Worcestershire sauce and cook until liquid is almost evaporated, about 20 minutes. Stir in flour, add 2 tablespoons water, and cook until thickened, 1 to 2 minutes. Remove from heat and add scallions. Season with hot sauce and (if desired) additional salt to taste.
3. To assemble: Preheat oven to 400 degrees. Roll out a single biscuit into a 3-inch disk. Holding disk in palm of your hand, place a heaping tablespoon of filling in center; lift edges to close dough around filling. Seal dough by twisting it, and place it with seam (twisted) side down on an ungreased nonstick baking sheet. Repeat to use all filling and all or most of the dough. Bake until lightly browned, 10 to 20 minutes depending on type of dough used.
Yield: About 25 portions.