10 Jul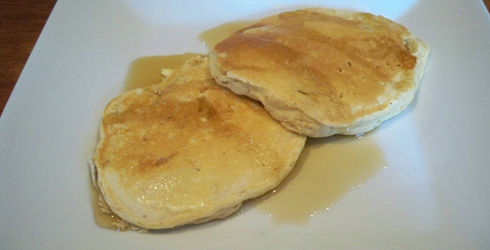 Oatmeal Banana Pancakes are a great weekend morning treat.  These are fairly sweet, so you may prefer a fruit topping on them rather than syrup, although good maple syrup is mighty fine on them, too.  Sliced strawberries with a light dusting of confectioners' sugar is one of our top choices, providing a lovely balance of flavors.

Jack Johnson even wrote a song about my favorite thing to eat on the weekend, Banana Pancakes.  Here are some lyrics from the song:
But baby, you hardly even notice
When I try to show you
This song is meant to keep ya
From doing what you're supposed to
Like waking up too early
Maybe we can sleep in
I'll make you banana pancakes
Pretend like it's the weekend now
Oatmeal Banana Pancakes Recipe
Dry ingredients
1 cup unbleached white flour
½ teaspoon salt
2 teaspoons baking powder
¼ teaspoon ground nutmeg
¼ cup quick-cooking oats*
Wet ingredients
1 egg, lightly beaten
1 cup milk
1 tablespoon vegetable oil
2 tablespoons maple syrup or sugar
1 cup sliced ripe bananas
* Or use rolled oats chopped into finer pieces in a grinder or food processor.
Sift together the flour, salt, baking powder, and nutmeg.  Add the oats and mix well.  In a separate bowl, stir together all of the wet ingredients.  Make a well in the dry ingredients and stir in the wet ingredients just to combine.
Lightly oil a skillet or griddle and place on medium-high heat.  Use about ¼ cup of batter for each pancake and cook until bubbles appear on the top, about 1 to 1 ½ minutes.  The bananas will settle to the bottom, so you want to flip these pancakes just as soon as bubbles start to form to avoid scorching them.  Cook on the second side until golden brown, about 1 minute.
Serve hot.
Makes 4 servings
Nutritional Information
Per 6.5-ounce serving: 300 calories, 8.8 g protein, 7.5 g fat, 50.8 g carbohydrates, 2.4 g saturated fatty acids, 70.4 mg cholesterol, 509.1 mg sodium, 3.1 g total dietary fiber
Moosewood Restaurant New Classics, Copyright 2001, Moosewood, Inc., Clarkson Potter, Publishers