4 May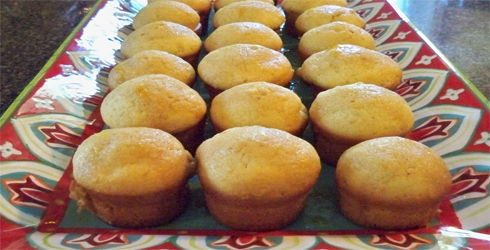 Orange Blossom Muffins are delicious little treats that are perfect for a quick breakfast, or to put out at brunch.  They are easy to make, taking less then an hour start to finish.  Some pastries can be a bit difficult to make, but not Orange Blossom Muffins.  If you have a fear of baking, rest assured these muffins are a snap.

Orange Blossom Muffins are light and moist.  The addition of orange zest and the juice gives these mini muffins a refreshing flavor, without overpowering.  I'm a big muffin fan, but sometimes they can be too large, and full of sugar and calories.  That is why I love making miniature muffins.  They seem to be just the right size.  You can pop one in your mouth for a little snack, and they are perfect for breakfast or brunch served along with your other favorite treats.
You want to make sure you add the orange juice and brown sugar mixture while the muffins are still hot.  This will help them absorb the juice and really infuse them with flavor.  Even though the recipe suggests to serve warm (I don't think there is anything better then warm muffins), you can always store them wrapped in saran wrap or place them in an air tight container.  They will keep well for a few days and still taste amazing.
Orange Blossom Muffins Recipe
1 stick unsalted butter, softened
1 cup sugar
2 large eggs
1 teaspoon baking soda
1 cup buttermilk
2 cups all-purpose flour
Freshly grated zest of 2 oranges and some additional for garnish
½ cup golden raisins
Juice of 2 oranges
1 cup brown sugar
Preheat oven to 400°F.  In a large bowl, cream together butter and sugar.  Add eggs, beating until well mixed.  In a small bowl, dissolve baking soda in buttermilk and add to butter mixture alternately with flour.  Stir in orange zest and raisins.
Pour batter into greased miniature muffin pans, filling three-fourths full.  Bake 12-15 minutes.  Remove muffins from pans immediately, and keep warm on a serving plate.  In a small bowl, combine orange juice and brown sugar.  Pour about 1 tablespoon over each warm muffin.  Top with orange zest, if desired.  Serve immediately.
Make 2-3 dozen mini muffins