13 Jun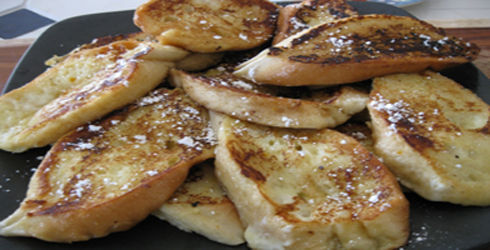 French toast is called Pain Perdu, or "lost bread," because it is made from stale bread.  What makes this Pain Perdu Breakfast different from regular French toast, is that it is a way to reclaim stale bread; hard bread is softened by dipping in a mixture of milk and eggs, then deep fried.  The bread is sliced on a bias and dipped into a mixture of egg, milk, sugar, cinnamon, and vanilla. The slices are pan-fried in butter and traditionally served dusted with powdered sugar and with jam on the side. Alternatively it may be served with syrup.

New Orleans Pain Perdu is a local variation of French toast made from left over New Orleans-style French bread, which resembles a French baguette, but has a crunchier exterior and a lighter interior.
Typical French toast is made with bread, cinnamon and eggs. Milk or sugar is commonly added. According to what is popular in local cuisine, many of the spices that are added to bread or egg dishes are included in cooking. This versatile dish is often topped with sugar, butter, fruit, syrup, or other items.  I personally only eat my Pain Perdu Breakfast with jelly on top.  Grape seems to taste the best.
Pain Perdu Breakfast Recipe
1 (12 ounce) French bread loaf
4 large eggs
2 cups whipping cream
½ cup granulated sugar
1 tablespoon ground cinnamon
1 teaspoon ground nutmeg
4 teaspoons vanilla extract
Powdered sugar
Jelly, jam, or maple syrup
Cut French bread into 12 (1-inch thick) diagonal slices.  Whisk together eggs and next 5 ingredients until blended.
Place bread slices in a lightly greased 13×9-inch baking dish; pour egg mixture evenly over bread.  Let stand 30 minutes, or overnight (covered in refrigerator), or until most of liquid is absorbed.
Remove bread slices from egg mixture, letting excess drip off.  Cook bread slices, in batches, in a greased nonstick skillet or griddle over medium-high heat 2 minutes on each side or until golden.
Arrange bread slices on serving plates; sprinkle with powdered sugar.  Top or serve with jelly, jam, or maple syrup.
Makes 6 servings
Nutritional Information
Per serving (without syrup or jelly): 535 calories, 26.2 g fat, 9.3 g protein, 64.4 g carbohydrates, 6.1 g fiber, 198 mg cholesterol, 384 mg sodium, 82 mg calcium